RENTS DROP 3% IN CANADA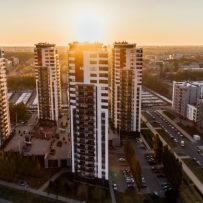 The national average rental rate dropped 3 per cent month over month and 3.4 per cent year over year, according to the March National Rent Report from Rentals.ca and Bullpen Research & Consulting.
The average monthly rent in February was $1,823 in Canada as measured by listings data on Rentals.ca.
Average monthly rent was down or flat for one-bedroom and two-bedroom homes in most cities, but a few municipalities bucked the trend including Brampton, Kingston, Burnaby and Quebec City.
Toronto led all 38 cities on the list for average monthly rent in February for a one-bedroom home at $2,240 and a two-bedroom at $2,910.
Prince Albert, Saskatchewan, had the lowest average monthly rent at $825 for a one-bedroom and $923 for a two-bedroom.
The chart below shows asking rents for rental apartments only in select Canadian cities for February with Montreal on top of the chart with a 34% annual change in rent. Saskatoon had the largest annual decline at -17%.
Toronto had the highest average monthly asking rent ($2,322) for rental apartments, with Vancouver close behind ($2,155), while Saskatoon had the lowest ($985).
The change in the average rental rate from February of last year to February of this year for all properties types has varied dramatically in Canada's major markets.
Rents are up by 4 per cent annually in Toronto to $2,524 per month (former city, pre-amalgamation) for all property types; rents are up 15 per cent in Vancouver to $2,334 per month; while rents in Montreal are up 31 per cent annually to $1,708 per month. (Despite the fairly large sample sizes in each of these major markets, there are some compositional changes in the data that can over-exaggerate the growth rate.)
On the flip side, Ottawa rents declined by 5 per cent annually, Edmonton rents were down 6 per cent, and Saskatoon rents were down a whopping 16 per cent to $1,015 per month.
Other takeaways from the March National Rent Report include:
On a provincial level, Ontario had the highest rental rates in February, with landlords seeking $2,212 per month on average for all property types. British Columbia had the second highest rental rate at $1,885 per month, while Newfoundland and Labrador had the lowest at $927.
With the exception of Quebec, all provinces experienced a month-over-month decline in average rents between January and February.
Rents in Saskatchewan are down 12 per cent year over year.
Condominium apartments are listed for rent at a 30 per cent to 35 per cent premium over the average rental apartment in Alberta, British Columbia and Ontario, while the premium is closer to 45 per cent in Quebec.
Average unit size decreased in all bedroom types between February 2019 and February 2020, most notably in three-bedroom units, which dropped in average size from 1,271 square feet to 1,210 square feet.
Ten of the top 13 most expensive cities on the list for renters of one-bedroom and two-bedroom homes are in Ontario. (The exception is New Westminster, BC which has a slightly higher average monthly rent for a two-bedroom at $1,961 to Brampton's two-bedroom at $1,944.)
Many tenants are likely choosing to stay in their residence until health concerns are reduced and economic uncertainty dissipates.
Also, immigration will temporarily grind to a halt while the borders are closed.  And, some young adults living at home or planning a move for a job or school are stuck, not knowing when school will resume and when, or if, their employment will start.
But some people could have already taken another job and/or given notice to their landlord, and they will need to find a place to live. Potential home buyers might also put off purchasing a home and continue to stay in the rental market to upgrade, boosting rental demand.
Rentals.ca will continue to closely monitor lease rates, listings activity, and trends during the Covid-19 pandemic.
"We are going to see a drop-off of walk-in showings for apartments across Canada during the Covid-19 pandemic," said Matt Danison, CEO of Rentals.ca. "Landlords and property managers will need to embrace virtual leasing as much as possible to keep their staff and potential renters safe during this difficult time. Rentals.ca has committed to help by significantly lowering the cost of 3-D and virtual tours until July 1 to help with social distancing."
"Following two years of high rent growth in Canada outside of the commodity-driven markets, rental rates have softened considerably in 2020," said Ben Myers, president of Bullpen Research & Consulting. "In the face of a global health crisis, the number of people making major life decisions like moving or changing jobs will be significantly reduced, and landlords will have to decide to either lower rents, offer incentives, or simply wait and hope for some return to normalcy in a couple of months."
The National Rent Report charts and analyzes monthly, quarterly and annual rates and trends in the rental market on a national, provincial, and municipal level across all listings on Rentals.ca for Canada.
The Rentals.ca numbers show vacated properties that better reflect current values. The figures better represent the actual rents a potential tenant would encounter when seeking to rent an apartment.

Story by: Rentals.ca and Bullpen Research & Consulting