Renters pushed to the 905 as vacancies hit 16-year low: Report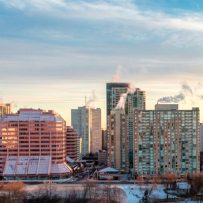 Tenants eye 905 region as average rent in downtown Toronto hits $2,392 in final quarter of 2017.
The squeeze on Toronto-region rentals is approaching strangulation with a constrained supply and climbing rents.
Condo rents, which rose 9 per cent across the region in the last quarter of 2017 to $2,166 on average, are pushing tenants out of the downtown and into buildings in the 905 area, according to a report from market research firm Urbanation.
Its data on rentals leased through the Multiple Listings Service (MLS) show those who have an apartment are staying longer with turnover declining in even the tiniest units.
The overwhelming majority of MLS leases are condos, which are believed to account for a third of the region's rental stock.
"With rent levels rising downtown and more condo projects finishing construction in the suburbs — and those units being offered for rent — we are starting to see some tenants looking at alternative options and starting to migrate into the 905 region where rents are quite a bit less expensive," said senior vice-president Shawn Hildebrand.
New condos are attracting renters to Mississauga, Vaughan and Oakville.
Rents in downtown Toronto rose 12.4 per cent in the last quarter of 2017 to an average $2,392 or $3.37 per sq. ft. But in the less costly 905 region, prices grew only 8 per cent to $1,867 or $2.45 per sq. ft., said the report.
The 905 area saw a 26 per cent increase in the number of leases in the final quarter, despite an overall 11 per cent decline in the Toronto region year over year — the biggest drop since Urbanation started tracking the data in 2010.
"We've seen previous quarters where activity has slowed down, but we've never seen a drop to that magnitude and it was primarily a supply issue," said Hildebrand. "We saw fewer projects come to completion last year and that was probably one of the biggest drivers."
Hildebrand expects rents will continue to increase this year — not necessarily by 9 per cent — but perhaps by 4 to 5 per cent.
Rent controls, extended to new buildings by the province in the spring, are discouraging tenants from moving.
In the fourth quarter, the average duration of a tenancy was almost 23 months — almost a full month longer than the previous quarter of 2017. Tenancy periods rose almost three full months compared to the end of 2016 and about six months compared to 2015.
Renters are staying put longer even in the tiniest apartments. Tenants living in studio apartments were staying almost four months longer in the last quarter of 2017, compared to the same period in 2016.
That reduced turnover along with fewer construction completions this year is creating a situation where the market has tightened severely against a backdrop of extremely high rental demand in the city, said Hildebrand.
The vacancy rate in the Toronto region was about 1 per cent, a 16-year low, said a November report from Canada Mortgage and Housing Corporation.
That report put the average rent of a purpose-built unit at about $1,300, compared to about $2,080 for a condo.
While declining home sales in the area may be extending the period people rent to some degree, the expanded rent controls are probably a greater factor, said real estate broker John Pasalis.
"Tenants can stay as long as possible now, their rents only go up 1 to 2 per cent per year while the (housing) market is going up 10 per cent per year," said Pasalis.
"There is less of an incentive to move now if you're renting — you're only going to move to buy a home because moving to another rental would likely mean paying 20 per cent more than you're paying now, assuming you've lived in your current unit for a couple of years," he added.
There will be more units coming up for rent this year, likely in the second half of 2018 as new condos are ready for occupancy, said Hildebrand.
But demand will remain strong given new restraints on home ownership, including anticipated interest rate hikes from the Bank of Canada and new mortgage rules that took effect on Jan. 1 from the Office of the Superintendent of Financial Institutions.
"This is happening at the same time as employment is surging, population growth is extremely strong," Hildebrand said. "It creates a lot of pressure on the existing stock of rentals and there's going to be continued downward pressure on vacancy rates."
But there is some good news in the report.
Developers of purpose-built rentals, who cancelled some projects after the province extended rent controls to newer buildings, appear to be less hesitant.
The low vacancy rate and the rise in rents are offsetting some of the concern those developers who want to see favourable returns on their projects, said Hildebrand.
There were 7,184 rental units under construction at the end of last year — the highest level in 25 years, he said.