Rentals.ca August 2018 Rent Report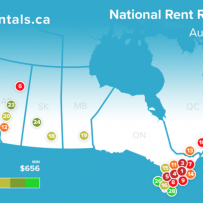 While the media often talks about the skyrocketing rent prices in Vancouver and Toronto, in August, most major Canadian cities saw a drop or a minor increase month-over-month. The largest jumps were actually in suburban communities and smaller cities. Aside from Halifax – where rent has crept up for one bedrooms – the East Coast is holding steady.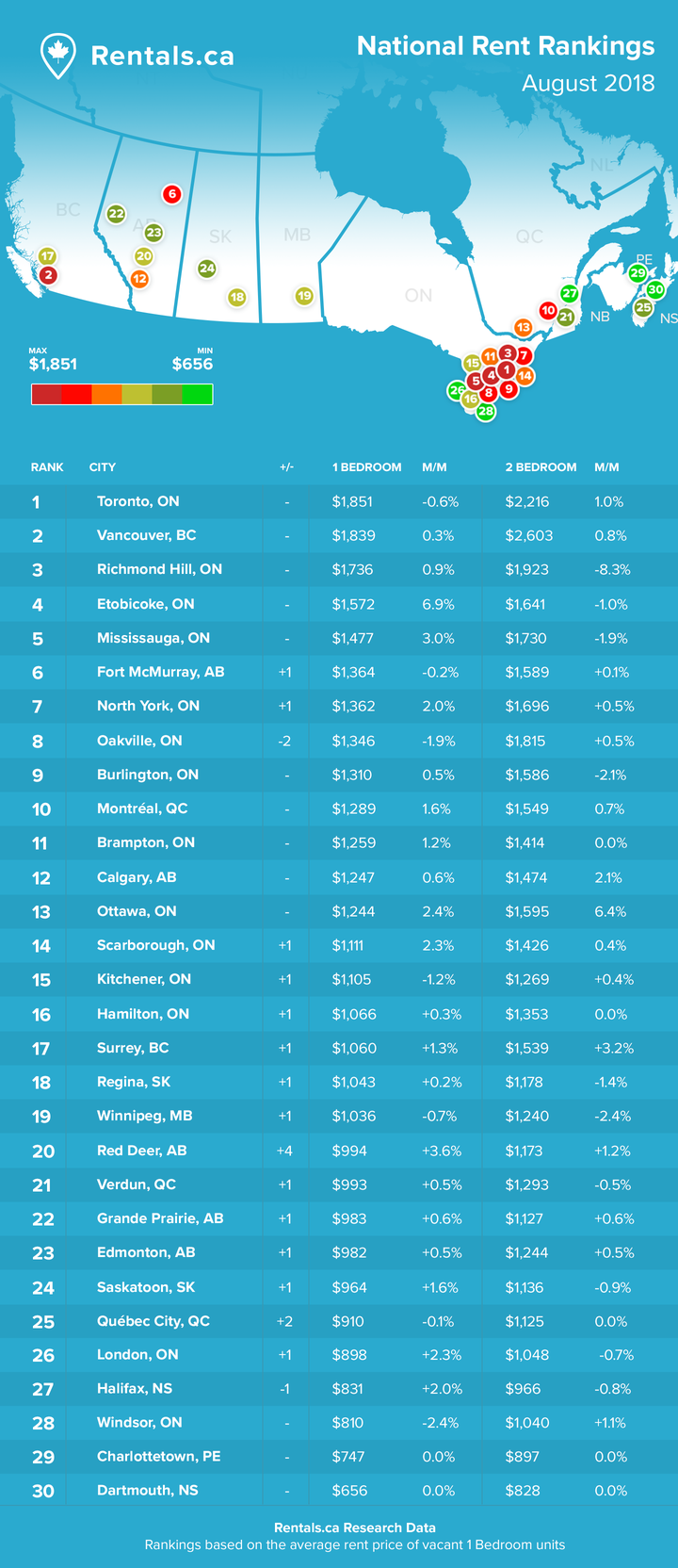 National Rankings
Looking at housing in terms of overall rental prices rather than rent increases and decreases, it's clear that Toronto and Vancouver still have the highest rent levels. Interestingly, while Toronto leads the pack in 1 bedroom prices, Vancouver has the most expensive 2 bedrooms. The next 3 expensive cities are all part of the Greater Toronto Area (GTA).
By Fort McMurray, the 6th city in the rankings, there is a steady drop in rent prices. In fact, there is a $500-$1,000 difference between rental prices in Fort McMurray, versus Toronto and Vancouver.
Two more Ontario suburbs and Montreal round out the top 10. While cities 11-15 are less dominated by the GTA, the majority of the cities are still in Ontario. The rest of the rankings show a broader spread throughout the country. The lowest rankings include a number of East Coast cities, as well as several locations in Alberta.
Rent Insights
While prices in Vancouver remain high, we expect to see prices drop leading into the fall and winter months.
Toronto is a mixed bag, with 1 bedroom prices decreasing and 2 bedroom prices rising.
Ultimately, though, the real insight comes in looking at Toronto's prices compared to the GTA. Many people believe that living outside Toronto probably means much cheaper rents; but, as the infographic shows, this isn't always the case. In fact, prices are quite high in several parts of the GTA – and they are still creeping upward. Renters searching for lower prices may have more luck looking in less expensive Toronto neighbourhoods than just outside the city.
The challenge in Toronto proper is the low vacancy rate. At this point, it can be challenging to find options in the city. This is forcing people to relocate outside the core, a shift that is contributing to the soaring prices in the GTA. As more development occurs in the city, prices outside the core may soften over time.
If you have the ability to live anywhere in the country and want to prioritize affordable housing prices, your best bet is to avoid Ontario. Instead, look at the East Coast or the Northern Territories. In terms of major cities, focus on Halifax and cities in the Prairies.
Affordable Markets
The most affordable markets on the list are on the East Coast. While prices there are lower, there are also challenges in the area, including high unemployment. This keeps availabilities high, but can make it difficult to want to move to the area unless you already have a job secured.
Windsor is another affordable market – the most affordable in Ontario. On top of that, prices are still dropping in the area for 1 bedrooms. At the same time, Windsor is considered high in economic attractiveness. This could make now the perfect time to enter the Windsor housing market. For young people, Windsor can be an ideal spot to go to school, start a career, or have a family.
Another affordable market to consider is Quebec City. If you are looking to live in Quebec and want to be in an urban area, Quebec City is a much more affordable option than Montreal.
Hot Markets
As always, Vancouver and Toronto are the hottest markets. However, rental prices in certain parts of the GTA are not too far behind, like Richmond Hill. Not only are Richmond Hill's prices about $100 behind Toronto's, but they are rising fast. Etobicoke is seeing even faster growth, with 1 bedrooms leaping up a whopping 6.9%. If you are looking at affordable housing in the city, both Richmond Hill and Etobicoke may be worth avoiding, but you might find an affordable gem of a rental in the outskirts of these towns! Mississauga and Oakville also have high rents, especially in luxury buildings.
While not as high on the National Rankings, Ottawa and Kitchener are both expensive compared to surrounding areas. This makes them the hottest markets in their areas. With Kitchener, this may be due to the fact that it is quickly becoming a Toronto bedroom community. Ottawa's prices are often high for the area as many people flood to the city for government work. Luckily, for those seeking affordable housing, there are a variety of less expensive options in close-by cities.
Another hottish market is Montreal. While Montreal is not as pricey as some others, prices are still substantially higher than in other cities in the area. If you are trying to avoid high housing costs, look to the suburbs, which remain more affordable.