RENTAL MARKET PROVES ROBUST HOUSING SUPPLY DYNAMICS HELP PEOPLE FIND HOMES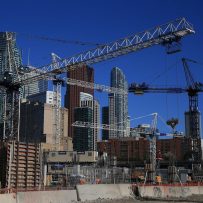 Owned and rental housing are two sides of the same coin, and they flipped quite distinctively during the pandemic: There were unprecedented increases in the prices and sales of owned housing across the country, while demand for rental housing grew slightly overall, yet slowed in some markets.
The demand for rental housing grew in 2021 relative to the previous year, along with the resumption of economic activity, especially in sectors employing young workers, and rising immigrant inflows, according to a recent report by Canada Mortgage and Housing Corp. (CMHC). Fortunately, the increase in demand was met with an increase in rental supply that helped stabilize vacancy rates and rents during 2021.
The rental housing market is supplied through two primary channels: purpose-built rental (PBR) housing and privately-owned condominium rentals. The PBR vacancy rate was 3.1 per cent in October 2021, similar to the same period in 2020, but much higher than in 2018 and 2019.

PBR vacancy rates fell in Calgary, Halifax and Vancouver, but rose in Toronto and Winnipeg. The slow economic recovery in Toronto, especially in youth employment, partly contributed to the slow growth in rental demand there.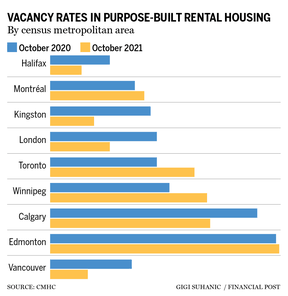 One thing is certain: the rental housing market provides strong evidence for the efficacy of supply and demand principles. For example, the number of occupied rental dwellings grew by 41,000 units across Canada from October 2020 to October 2021, which should have put upward pressure on rents, but the supply of PBR dwellings increased by 40,000 units, thereby offsetting demand.
Equally noteworthy is that the rental supply in October 2020 had exceeded demand by roughly 26,000 units over the previous 12 months, relieving pressure on rents and vacancy rates. Oddly, supply skeptics who doubt that increasing housing supply will help ease pressure on housing prices are not as critical of supply-side solutions for rental housing.
The resurgence in PBR construction has been a critical stability factor in rental markets, with supply outstripping demand in Toronto and Winnipeg by 4,000 and 1,000 units, respectively. That's one reason the vacancy rate in Toronto in October 2021 reached 4.6 per cent, much higher than in October 2020. By comparison, vacancy rates fell to 1.2 per cent in Vancouver and one per cent in Halifax.

University towns also reported tightening rental housing markets. With the gradual resumption of on-campus learning, university students returned in large numbers, contributing to the increase in the small, student-dependent rental markets.
This was further amplified by the increase in the number of international students. The number of study permit holders grew by 44.3 per cent between October 2020 and August 2021, compared to the same period a year earlier, according to government data. Consequently, vacancy rates fell last year in places such as Kingston (1.4 per cent) and London (1.9 per cent) in Ontario.

Overall, though, thanks to the sizable increase in rental supply, rents in Canada grew more slowly in 2021 than the year before. For example, rents rose by 1.3 per cent in Toronto, a much slower growth rate than in 2020. But tighter markets in Vancouver and Halifax meant rents there rose by 2.4 per cent and 4.8 per cent, respectively, outpacing the previous year's increases.
Yet despite the increase in the supply of PBR housing, a sizable segment of the population still struggles with affording housing in large urban centres.

Consider that an average-wage earner in Vancouver has to work 198 hours (roughly 28 standard shifts) each month just to keep the average monthly rent of a two-bedroom apartment to 30 per cent of their gross income. By comparison, an average-wage worker in Quebec would need to work for only 105 hours for an affordable rental dwelling.

With the economic recovery accelerating in sectors that employ young workers (for example, hospitality and tourism), a marked increase in net migration and a growth in the number of international students, one can expect a steady rise in the demand for rental housing, which is inherently tied to those three demographics. Fortunately, a continued expansion of rental supply will assist in maintaining the balance.
Story by: Financial Post