RENTAL MARKET IN GTA PICKING UP PACE FOR AUTUMN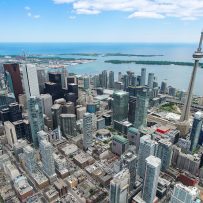 Students and immigrants are coming back to the Greater Toronto Area (GTA), driving up the pace of the rental market.
Eileen Lasswell, a broker at Chestnut Park Real Estate Limited, did a deep dive into Toronto Regional Real Estate Board's (TRREB) MLS® market stats for the rental market just before Labour Day weekend.
"I think that the big story here is pace," she says. "A fast-paced rental market is stressful for renters as they have to make their decisions quicker, perhaps see less places and may be competing more frequently. That leads to frustration and disappointment.
"In some cases they may feel that the prices have gone up. And they have in some segments of the rental market, but not all. In reality what is really changing is the speed of the market."
With that will come continued pressure on rental prices heading into fall. According to Lasswell, looking at the week leading up to Labour Day weekend, there was a 20 per cent decrease in downtown condos rented (year-over-year comparison). The demand was there, she adds, but inventory was limited – so that led to price increases and bidding wars.
Digging deeper – in the area west to Dovercourt Road, south of Bloor Street to the water, and east to Yonge Street, during the Friday to Tuesday prior to Labour Day weekend – the average day on market for rental listings was 12 days compared with 27 days in 2020. And the average price was up 7.7 per cent over the same time period, compared with 2020.
Another telling sign was a 46 per cent increase in the number of freeholds that rented in the downtown area in August versus August 2020. The majority of these were basement apartments, filling a void in the lower end of the rental market.
Houses renting between $2,500 and $10,000 in central Toronto, south of Highway 401, saw similar volumes, and the average price comparing this past August to August 2020 remained the same, but these properties were renting 23 per cent faster this year compared with last.
Comparing the same months, three-bedroom houses renting in central Toronto, south of the 401, saw a 15 per cent decline in rental volume and a two per cent increase in average rents. But, again, the pace was 35 per cent faster.
One factor is that companies are starting to allow employees back into the office, so commuting hours per day doesn't sit well with many people. Then there's the segment of the population that misses the vibrancy, energy and connectivity of downtown living.
"We have seen a healthy recovery in the rental market in recent months," says Kimberly Sears, director of Menkes Condominium Rentals, a division of Menkes Developments Ltd. that manages condominium units on behalf of owners.
"Around the beginning of July, the mood in the market shifted, with more and more people looking for occupancies for Sept. 1 and beyond. We've seen inventory get taken up and rents increase – the numbers are not quite at pre-pandemic rents levels, but they are close in certain neighbourhoods and buildings," she says.
Key drivers in a rental market resurgence from Sears' perspective have been the return of students, with the University of Toronto announcing a return to in-person classes, for example, as well as immigration.
But also, there have been lifestyle changes. The pandemic spurred a lot of activity, with many people either upsizing or downsizing, whether that was a family having more children, couples breaking up, or people wanting to move out of their parents' home.
Also affecting the rental market is the greater competition for single-family homes, by those looking for more living space and a yard but being priced out of a red-hot resale market, and tiring of living in smaller condos closer to the downtown core.
"Having a surge in demand due to all of these factors in such a small period of time is a concern as it leads to bidding wars and is pushing rental prices up," Lasswell says.
Overall, broader economic recovery translates to people being less afraid to sign rental agreements because they are more confident in their job and income prospects.
Even looking back at the last TRREB market report for the rental sector, covering the second quarter of 2021, was a harbinger of things to come for later summer.
Growth in rental transactions outstripped the growth in the number of units listed, and the number of condo apartment rental transactions in the second quarter was more than double the number reported in the same quarter of 2020 – 14,920 compared with 7,300.
Strong demand for rental accommodation and increases in average rents will continue into next year, says TRREB president Kevin Crigger in the report.
"The rebound in rental activity and prices will continue to be robust as long as property values continue rising and travel resumes to pre-pandemic levels," says Christopher Alexander, senior vice-president at Re/Max Canada.
Story by: The Globe and Mail