Rental market booming as millennials get priced out of home ownership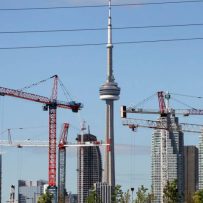 Greg Bonnell, Reporter, BNN
For Brian DePratto, Canada's housing market is both business and personal.
The TD Bank economist studies Canada's hot real estate sector but he wonders when he and his fiancée will be able to make their dream of buying Toronto house a reality.
"We would like to own a home eventually," said DePratto. "But certainly the way things are looking right now it doesn't really make a lot of economic sense for us to dive in." And he's not alone.
Many millennials are finding home ownership out of reach. The average home in Canada now costs more than half-a-million dollars – that's up eight percent in the most recent quarter. In Toronto that same home will cost about $600,000. It's nearly $1.1 million in Vancouver. Low interest rates are keeping mortgage payments affordable. But a recent BMO survey found as many as four in 10 first-time homebuyers couldn't afford a down payment without help from family members. And those who can't tap into the 'bank of mom and dad' are deciding to rent.
"Unless you've got significant savings or willing to take really significant risks given today's prices, renting might be the only option for a lot of people," said Greg Romundt, president of Centurion Apartment REIT.
Renters can still take part in the housing boom by investing in real estate stocks. Once taxes, fees and other costs are accounted for, condo owners would have been better off renting and investing in Canadian Apartment REIT, according to a recent RBC report. And the market is responding to this rental renaissance. Two dozen new rental projects are underway in Toronto and nearly 50 are on the drawing board.
"That's really unprecedented. As a country we really haven't built a lot of new rental apartment stock since the '70s," said Romundt.
The construction of new rental apartments is now double the five-year average across Canada's six largest cities.
Back in Toronto, TD's Brian DePratto is still renting – and watching the market closely. TD forecasts that home prices will likely fall up to three percent in the next couple of years. That may give him a chance to get into the market.
"Right now it's just a matter of timing the market, looking at what's happening and figuring our when the right time to move is," said DePratto.
"With this price correction, it's probably not going to be this year."