Rental Infill Proposed for Rexdale Tower-in-the-Park Site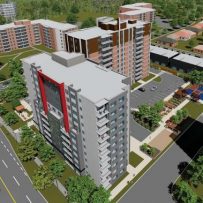 Despite still being a few more years before the planned Finch West LRT brings improved transit to northwestern Toronto, the first signs of anticipatory intensification are springing up in neighbourhoods that will be served by the new line. Just under one kilometre north of the line's future Martin Grove stop, the owners of a Tower-in-the-Park style 12-storey rental apartment building are seeking to intensity their site at 41 Garfella Drive in Etobicoke with added residential density.
A rezoning application was issued in August on behalf of site owner Ibrans Investments, with documents shared on the City's website earlier this month revealing the plan from Mataj Architects. The proposal calls for an 11-storey rental building and a block of 13 freehold townhomes to be built alongside the site's existing 12-storey, 95-unit rental building. The new rental building would be situated at the southwest corner of the site fronting onto Martin Grove Road, while the towns would be built to the east of the existing building along Stevenson Road.
Renderings and architectural plans show a slab-like massing that closely replicates the existing 1960s-era rental building on site, rising to a 34.4 metre height. The nearly identical massings will be differentiated by their exteriors, with the new building to be clad in palette of greys with flashes of colour, in contrast to the older building's predominantly red brick exterior. The new building would be clad in a mix of exterior insulation finishing system (EIFS) with sandstone and gemstone finishes, aluminum composite cladding, and 1 1/2″ thick stone panels. Townhomes would be clad in a mix of aluminum composite cladding, brick veneers, wood siding, and manufactured stone finishes.
The new rental building's 80 units would consist of 27 one-bedroom units at an average size of 47 m², and 53 two-bedroom units at an average size of 80 m². The 13 freehold townhome units will all offer a minimum of three bedrooms, with heights of two storeys and average unit sizes of 164 m².
The proposed density and added eyes on the street provided by new frontages on Martin Grove and Stevenson Roads would be joined by a landscaping plan by Adesso Design that includes a pedestrian gateway at the corner of Martin Grove and Garfella.
To accommodate the new units, the project's existing 68-space underground parking garage will be expanded to hold 25 new spaces for a total of 95. An additional 55 spaces would be provided at grade, bringing the site total up to 150 parking spaces.
Additional information and images can be found in our database file for the project, linked below. Want to get involved in the discussion? Check out the associated Forum thread, or leave a comment using the field provided at the bottom of this page.