RENTAL HOUSING AND EVICTIONS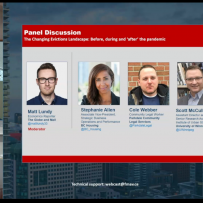 The Globe and Mail, in partnership with Canada Mortgage and Housing Corporation (CMHC) hosted a virtual event on September 16 to discuss the path forward for Canada's rental housing market.
Here are some of the highlights from the discussion:
Rentals are key to affordable housing
CMHC has set a goal to provide all Canadians with housing they can afford by 2030, said Romy Bowers, senior vice-president of client solutions with CMHC. In cities such as Toronto and Vancouver home ownership is less affordable and in many cases, not desirable. A robust rental sector would take the pressure off the home ownership market and help strike a better balance between housing supply and demand, she added.
Tenants need more protection from evictions
In Toronto's Parkdale neighbourhood, large companies are buying up properties and pushing tenants out, said Cole Webber, community legal worker with Parkdale Community Legal Services. Rent control regulations in Ontario do not apply to vacant units. He cited one example of a company that bought two buildings containing 700 total rental units. In the two years since the company purchased the buildings, 150 units now sit vacant – held off the market in the midst of a housing shortage as the owner plays the 'long game' of waiting for new tenants who will pay more.
Data on evictions is lacking
Scott McCullough, assistant director and senior research associate with the Institute of Urban Studies at the University of Winnipeg agreed the 'financialization' of housing is a key driver of evictions. Large companies are buying up affordable housing units and redeveloping or upgrading them for profit. He also pointed to data gaps on evictions. The current data often miss informal evictions or those that aren't reported by tenants, he said. In some jurisdictions, landlords are permitted to print their own form for evictions and bypass tribunals.
We need to focus on vulnerable populations
When the pandemic hit, BC Housing moved quickly to provide housing in hotels and other units to 600 people who had ended up in encampments, said Stephanie Allen, associate vice-president of strategic business operations and performance with BC Housing. Within this group there was an over-representation of Indigenous and racialized communities. We need to take a culturally-informed and trauma-informed approach to help vulnerable populations find and remain in housing, Ms. Allen said.
Conversations can help keep tenants in place
Good dialogue between tenants and landlords is important, especially during the pandemic, said David Hutniak, CEO of LandlordBC. When the pandemic arrived, his members were encouraged to speak with tenants to ask if they were facing job or income loss. LandlordBC members include small property owners such as those renting out a secondary suite. In many cases, the loss of a tenant would make it hard for these landlords to pay their bills so the conversations are resulting in a win-win for many members and their tenants, Mr. Hutniak said.
We need more affordable rental supply
Robert Brown, vice-president of project generation with Catalyst Community Developments Society in Vancouver said there isn't enough affordable rental supply in Canada's large cities. From 2000 to 2017 average home prices rose 365 percent in Vancouver, rental rates rose by 80 percent while incomes gained 18 percent. Those numbers are a stark example of the disconnect between average incomes and housing affordability, Mr. Brown said. Average rent for a one-bedroom unit in Vancouver is $2,000, requiring an annual income of $80,000. Housing stock is being lost to developers and short-term rentals such as Airbnb – exacerbating the problem.
Renting is no longer the bridge to home ownership
Renting has become the housing of last resort for many, said Asquith Allen, director of policy and regulatory affairs with the Federation of Rental Housing Providers of Ontario (FRPO). The days of renting for a few years to save for a down payment on a house are gone for many, who will remain in rental units over the long term. Demand is outpacing supply, he said, noting Ontario will face a shortfall of 200,000 rental units over the next 10 years. Solutions include faster approval of rental development projects by municipalities and more infill development of existing urban areas.
Confidence and data help spur development
More data on rental housing would help provide confidence to developers and landlords to move projects ahead, said Wendy Waters, vice-president of research services and strategy with GWL Realty Advisors in Vancouver. Landlords need to know rental rates will keep pace with development and ownership costs. Before the pandemic cities such as Toronto and Vancouver saw job growth in the range of four to five percent. New jobs in sectors such as fintech pay well, so newcomers entering cities to work in these fields are able to afford more expensive rents. But we also need affordable rental housing for lower-income earners if we want to promote vibrant cities and communities, Ms. Waters said.
We have an opportunity to catch up
Demand for rental housing is at a generational high, said Shaun Hildebrand, president of Urbanation Inc., a real estate research and analytics firm. Ontario is seeing a demand of 40,000 rental units per year and a shortfall of about 20,000 units. One of the issues is the market has been relying almost exclusively on condo developers to supply rental units, he said, noting 90 percent of new rental housing built over the last 15 years has come from condo development. We now have an opportunity for rental developers and policy makers to work together on initiatives to supply more purpose-built rental housing, he said.
Story by: The Globe and Mail