Rental demand will require construction of 30,000 units in Metro Vancouver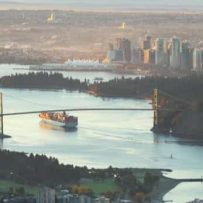 What's needed?
Two years ago, the BC NDP campaigned on a pledge to deliver 114,000 affordable housing units within a decade. The housing crisis has hardly improved since then, with prices and rents both increasing even as sales pulled back.
Speaking to the Urban Development Institute recently, Michael Ferreira, principal of market research for Urban Analytics Inc., offered his take on what's required in terms of purpose-built rental units.
Ferreira believes foreign students could require 10,000 to 20,000 units. Downsizing empty-nesters could need 38,000 units, according to numbers provided by GWL Realty Advisors Inc., while their children could require 10,000 to 15,000 units.
And let's not forget about all those jobs the booming tech sector is drawing to the region: Ferreira said that with 20,000 workers coming, it's fair to add another 10,000 to 15,000 units to demand, especially as many of them will be foreign nationals who have better things to spend their cash on than B.C.'s foreign buyer's tax.
Add those numbers up and you've got an estimated demand for at least 68,000 purpose-built rental units, a far cry from the 3,273 purpose-built rental units set to complete this year and 10 times the 6,800 units in planning for the region. Ferreira said afterwards he believes 30,000 units are necessary in the next two years to meet oncoming demand.
But with municipalities such as the District of North Vancouver not budging on approvals, Ferreira presented a stark vision of the future.
"We have to stop talking and actually start building, because if even a fraction of this potential demand materializes, we're nowhere near where we need to be in terms of supply," he said. "How long do you think before we see a $5 per square foot rent in downtown Vancouver or a $4, $4.50 per square foot rent in Burnaby, Richmond and some of these other places?"
Counterpoint
But a few hours after Ferreira delivered his talk, Simon Fraser University associate professor of public policy Josh Gordon participated in a panel discussion with David Hutniak, CEO of LandlordBC; Tony Pappajohn, president of Jameson Development Corp.; and Squamish Nation councillor Khelsilem.
Gordon argued the issue isn't so much how many units are built as it is security of tenure.
Gordon, who rents a condo from family and (as Hutniak noted) has pretty solid tenure, said households with an annual income of $80,000 and up have secure tenure because they can afford alternative accommodation if displaced (median household income in Metro Vancouver is 15th highest in Canada, at $72,662 in the 2016 census, according to Statistics Canada).
What's needed are policies that protect housing for those with the least leverage in the market, Gordon said; cracking down on short-term rentals, owners who leave units vacant and more cash for those who lose tenure through renovictions and demovictions are his favoured options.
"The low vacancy rate is a product of a high economy – nothing more, nothing less," he said, claiming (as some University of British Columbia instructors shook their heads in disagreement) that there are no peer-reviewed academic studies showing that boosting the stock of purpose-built rentals improves vacancies.
"Supply is on the way. It's already being delivered," said Gordon, claiming there are 45,000 units for sale and rent under construction in Metro Vancouver.
Pack 'em in
A glance at Statistics Canada data puts the much-discussed Metro Vancouver housing shortage in context.
The region has approximately 2.6 people per bedroom (StatsCan lumps dwellings with five-plus bedrooms together). This is less than Toronto (2.8 people per bedroom) but more than Montreal (2.4 people per bedroom). Fraser Valley homes are exceptionally cozy with nearly three people per bedroom in Abbotsford-Mission and 3.2 per bedroom in Chilliwack.
The statistics indicate that Abbotsford is also the best place in the Lower Mainland to find households of five or more people living in a studio apartment (more than 4% of units are apparently inhabited this way, versus less than 1% in Vancouver).