Rental Crunch: B.C. Housing Minister warns of possible hikes under rent-control system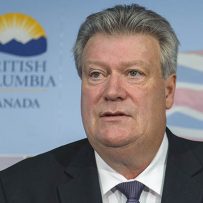 Talk by the provincial government about possible hikes to rent controls is sure to send shivers up the spine of B.C.'s 1.1-million renters.
The current system of rent controls, which has been in effect since 2004, is defined as a two per cent increase per year plus the rise in the Consumer Price Index, which is currently running at 1.1 per cent.
Housing Minister Rich Coleman told The Sunday Province that discussions will be held soon, with a view to perhaps permitting the level of increases to be set higher.
Coleman has concerns about cost increases that landlords are unable to recover under the present formula.
The minister gave the following example of why the rules need to be re-examined:
"If my municipality increases property taxes by six per cent, landlords have no way of recovering that. The same applies to increases like sewer and water … Other options may also be put on the table."
Coleman said the matter will be discussed at the committee level and could reach the legislature next year if changes are recommended.
Rent controls are a controversial topic. Landlords want them removed, while tenants' groups insist they should stay.
David Hutniak, Chief Executive Officer of Landlord B.C., says more new rentals would be built if owners could make decent money doing it.
"This is not a big margin business," he said. "Costs are increasing all the time."
Tom Durning of the Tenants Resource & Advisory Centre says controls are needed to protect against unaffordable hikes.
"If it wasn't for rent controls, rents would be out of sight," he said.
Story by: KENT SPENCER, THE PROVINCE  kspencer@theprovince.com   |  twitter.com/kentspencer2