RENT CONTROL IS NOT THE ANSWER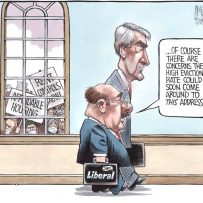 Halifax is booming, which is a blessing and a curse. Even before the pandemic, population growth was straining the housing supply. I've lost count of the number of times I've heard "vacancy rates on the peninsula are less than one per cent." Understandably, many Halifax residents are concerned and feeling the stress of high and increasing rents. Calls for rent control are getting louder and gaining traction. Last week, two Liberal Party leadership candidates in Nova Scotia, Labi Kousoulis and Iain Rankin, declared rent control part of their platforms.
Rent control seeks to keep rents low by limiting increases on rents. Under the policy, tenants pay market-level rent when they first sign a lease, but over time their controlled rent lags behind rents paid by newcomers to the market.
While the lack of affordable housing in Halifax is a real issue, rent control is not the answer. The source of the problem is that lots of people want to live in Halifax, and the housing supply needs to expand in order to accommodate them. Effective remedies for high rents are policies that increase housing supply. Unfortunately, the rent-control debate is often framed as pitting landlord interests against tenants. But that framing misses the main point, which is that rent control is bad for most renters in the long run. So as a thought exercise, let's set aside the interests of landlords for a moment and consider the effect that rent control has on tenants.
Rent control benefits some renters and harms others. Incumbent renters — those fortunate enough to have secured an apartment — undeniably benefit by paying lower rents than they would have without the policy. But what about people still looking for an apartment? They are forced to compete for a dwindling supply of available units. If they are lucky enough to find an apartment, they will be forced to pay even higher rents.
Rent control also reduces the supply of rental housing. In a rent-controlled market, incumbents are less likely to move because they're getting a great deal where they are, which inhibits the reallocation of housing. For each young family with a newborn who wants to upsize from a one-bedroom to a two-bedroom, there's an older family looking to downsize. These moves contribute to the dynamism and growth of a city. Unfortunately, rent control inhibits these moves since both families would experience (potentially massive) rent increases if they left their current apartment.
In a rent-controlled market, less new housing is built, and existing units are converted to owner-occupied housing at a higher rate. Both of these forces further reduce the supply of rental units. In San Francisco, conversions reduced the supply of rental units by 15 per cent, as would-be landlords instead sold to owner-occupiers or redeveloped their buildings. Again, this puts upward pressure on rents for everyone except incumbent renters.
My assessment isn't unique. Rent control is one of the rare topics about which economists have near universal agreement. If you're not convinced, consider peer-reviewed research by Rebecca Diamond (Stanford University) and co-authors, or by Ed Glaeser (Harvard University), or listen to a lively discussion on the Freakonomics podcast (#373 – Why Rent Control Doesn't Work).
Unfortunately, when rents are skyrocketing, rent control can be a deceptively appealing policy for housing advocates and politicians. But it actually accelerates gentrification and increases rents in the long run by reducing supply. Rent control is self-defeating, and unless there's a widespread understanding of the unintended consequences, it's tempting for politicians to flirt with the idea.
Effective housing policy would focus provincial efforts on increasing supply, particularly for low-income populations. In the U.S., the Low-Income Housing Tax Credit has had some success. Municipalities can also link development permits to construction of low-income housing. Offering subsidies or vouchers to low-income households, while costly to taxpayers, may also be more effective than rent control in the long run.
I hope that provincial leaders and voters will consider the predictable and self-defeating consequences of rent control before turning it into policy that becomes difficult to reverse.
Story by: The Chronicle Herald