Removing rent control on new units won't ease Toronto's housing crisis, tenant and housing experts say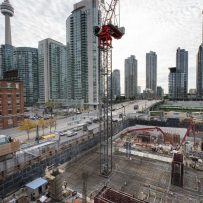 The Ontario government's removal of rent controls on new, previously unoccupied rental units will mean higher housing costs in the future but won't do much to relieve Toronto's historically low vacancy rate, at least in the near term, say tenant and housing experts.
Starting immediately, rent control rules will no longer apply to buildings and flats being rented for the first time, the Progressive Conservative government announced in an economic statement on Thursday.
"Everybody who's an existing tenant today is protected … but the challenge for the future is there is no supply … the one thing the government can do to bring in new supply is to open the market," Finance Minister Vic Fedeli said.
Geordie Dent, executive director of the Federation of Metro Tenants' Associations, called it a return to the "economic evictions" of former PC premier Mike Harris.
"When you were in a unit that had no rent control, the moment you would ask for maintenance or try to enforce any of your rights, you'd get hit with a $1,000 rent increase or a $500 rent increase," he said.
It had the effect of pushing people out of their homes.
"There is no empirical evidence that rent control affects rental housing development one way or another. When rent control was gutted by Harris in 1997, we were promised thousands and thousands of new units. They did not materialize," he said, citing zoning and tax incentives as the only effective ways of motivating housing development.
Landlords, who applauded the curtailed rent controls, also cautioned that it is a longer-term solution to boosting rental stock.
"Our belief is that exempting new construction from rent control will encourage companies to bring on new supply," said Tony Irwin, CEO of the Federation of Rental Housing Providers. Its 2,200 members manage or own about 350,000 rental households in the province. But, he added, "This is not going to bring new supply online tomorrow. It will take some time, probably a few years."
Under Ontario's rent controls, landlords are only allowed a provincially capped annual increase. This year, it is 1.8 per cent. There are exceptions for building owners who make significant improvements to their property and a landlord can ask whatever rent they choose when a new tenant moves in.
Until last year, rent control applied only to buildings built before 1991 but, as part of its housing policy to boost affordability, the former Liberal government extended rent controls to all buildings in April 2017.
"I can see they're trying to encourage new building but down the road there will be less and less units available that are under rent control," said Rob Field, president of the Graydon Hall Tenants' Association, representing 1,000 units in three high rises near Don Mills Rd. and Hwy. 401.
Field said his two-bedroom apartment is a good example of how rent control works. He's been there nine years and pays $1,379 a month. But the same apartment that changed hands now costs $1,700.
Some developers backed away from proposed rental projects immediately after the Liberals extended rent control last year. But that interest in rental development has since revived, said Shaun Hildebrand of Urbanation, a market research company that tracks development in the Toronto region.
There are about 12,000 rental units under construction in Toronto and proposals for another 40,000, he said. But it won't be enough.
"We need to be building at a pace of probably at least 10,000 a year. To get there we would need to see the level of units under construction triple at least — above 30,000," Hildebrand said.
The current vacancy rate of about 1 per cent has historically been closer to 2.5 or 3 per cent, he said.
Condos now make up a third of Toronto rentals and there are luxury rentals being built but they're not much use to vulnerable tenants, who average about half the income of homeowners, said University of Toronto professor David Hulchanski.
Developers stopped building apartments when the federal government stopped subsidizing them, not because the province implemented rent controls, he said. The real issue is vacancy decontrol regulations that allow landlords to charge whatever they want when a tenant moves out.
"It's an incentive to get rid of tenants," Hulchanski said.
"Landlords are charging whatever they can get when a unit is empty. If you own a building in a poor neighbourhood you can't soak them too much more. If you own the building in gentrifying neighbourhoods you do pretty good," he said.
"It's not the building of the units, it's the affordability of the units that's the problem," said NDP Leader Andrea Horwath. "By getting rid of rent controls we're just going to guarantee that those developers can charge whatever price they want."
"I don't know how raising peoples' rents is helping the people," said interim Liberal leader John Fraser.