REITs appear to perform better than condos over long run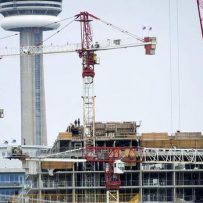 Story by: TAMSON MCMAHON – REAL ESTATE REPORTER – The Globe and Mail
The Canadian condo market has been a fertile playground for real estate investors in recent years, with buyers profiting from both rising rents and prices. But are condos really the best way to bet on the residential housing market?
Royal Bank of Canada real estate analysts compared returns from the condo markets in Calgary and Toronto to two real estate investment trusts that own rental apartments in those cities. It turns out that over the long run, REITs perform better than condos by a significant margin.
"Although purchasing hard real estate assets usually has a positive emotional aspect to it, the fact is that REITs generally outperform condo investments in both Calgary and Toronto over most time horizons," the analysts wrote in a new research report.
The RBC analysis compares the condo markets in Toronto and Calgary to two REITs: CAP REIT, which owns dozens of apartment buildings across Canada, including more than 40 in Toronto, and Boardwalk REIT, a rental apartment landlord based in Calgary.
Condos performed better some years, particularly between 2012 and 2013 (the condo run went even longer in Calgary). But over all between 2008 and 2014, apartment REITs achieved more than double annual investment returns of the condo market. Condo values increased 7.5 per cent in Toronto compared to a 10.8-per-cent return for REITs. In Calgary, REITs returned 8 per cent over that time period, compared to just 1.7 per cent for condos. On average, condos have returned 4.6 per cent a year since 2008 compared to 9.4-per-cent annual gains for REITs.
Boardwalk's unit prices have dropped much faster than Calgary condo prices in the wake of the sharp drop in oil, with the value of Boardwalk units falling 11 per cent in the final quarter of the year, compared to a 2.7-per-cent drop in condo prices in the first quarter of 2015. Capital markets usually respond faster than homeowners to a negative economic shock. But that leaves Boardwalk primed for a comeback the analysts said, while the future of Calgary's condo market "is lukewarm at best." The market for both condos and apartment REITs has been stronger in Toronto, which is less exposed to falling oil prices than Calgary. But RBC warns that high prices and high levels of household debt, along with "the constant barrage of negative media coverage on Canada's housing market" will likely dampen condo prices.
Until now, Canada's condo market has been driven primarily by falling interest rates, they wrote. On the other hand, renting is often an attractive alternative to buying when interest rates eventually start rising, given apartment REITs a long-term advantage. RBC also points out that REITs offer investors better flexibility. It's often easier and faster to sell REIT units on the stock market than it is to sell a condo when prices fall.
"REIT investors can probably sleep a little easier at night without having to worry about carrying another mortgage, the odd bad tenant or the daily news flow of an impending condo price correction," they wrote.
To compare condos to REITs, RBC studied the net returns on a 900-square-foot two-bedroom rental condo. For a true apples-to-apples comparison they assumed condo investors had financed their purchase half in cash and half through a mortgage at typical discounted rates, roughly matching the 40-50-per-cent leverage of REITS. (Buying a condo with a down payment of 20 per cent or less was the equivalent of investing in REITS using margin, they said.)
"In fact, the use of higher leverage would amplify the results, making REITs even more attractive (over most investment periods)," they wrote. "Notably, the higher debt component would also create negative cash flows for the condo investor but not the REIT investor."