REGISTER FOR THE OPERATIONS ROUNDTABLE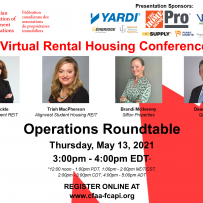 The Operations Roundtable will take place this Thursday (May 13) from 3:00 to 4:00 pm* EDT.
*(12:00 to 1:00 pm PDT, 1:00 to 2:00 pm MDT/CST, 2:00 to 3:00 pm CDT, 4:00 to 5:00 pm ADT)
The event will open at 2:30 pm EDT, and will remain open until 5:00 pm EDT, to allow for additional networking with attendees, sponsors and the panelists.
Panelists:
Ruth Buckle, Senior Vice President, Property Management, Killam Apartment REIT
Trish MacPherson, Partner, Alignvest Student Housing REIT
Brandi McIlvenny, Director, Residential Rentals, Sifton Properties
Dean Holmes, Senior Vice President, Residential Operations, Quadreal
The panel will discuss topics such as:
Rents and rental collections under the third wave
Expectations about student rental demand
Changes the industry can expect after COVID-19
Gender equity
Managing increasing insurance rates
The cost to attend this session is $40 + tax. CFAA Direct and Affiliate Members are eligible for a discount. To obtain your discount code, please email admin@cfaa-fcapi.org.
This presentation is included in the Full Presentation Package or can be bought on its own.
This event will take place in the networking platform, Remo. For details on how to navigate the platform and troubleshoot in the event of any issues, please watch CFAA's Remo Instructional Video and read the Attendee FAQ. If you have any issues not addressed in either the video or FAQ, please contact CFAA at admin@cfaa-fcapi.org.
Story by: CFAA President John Dickie