#reflections, a new mini-series on the leaders of the Canadian real estate industry. Watch the Trailer!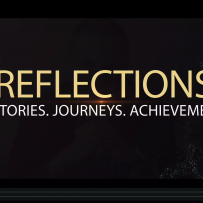 Coming to a small screen near you!
January 2017 is the start of a New Year and time for #reflections, a new auto-biographical mini-series of high quality films showcasing leaders of the Canadian real estate sector sharing personal stories, journeys and achievements.
The premiere of the series features Greg Romundt of Centurion Asset Management who will share his personal rise to success and Centurion's record setting milestones.
"This was a different experience for me. It's enlightening to reflect on everything we have achieved in less than 15 years. Our industry is always evolving and you have to constantly adapt to changes in consumer and market needs" shared Greg Romundt, President, Centurion Asset Management Inc.
The first of its kind in our industry, the high end production adds a fresh dimension to the distinctiveness of real estate.
"The ability to create unique and engaging content for our industry is both exciting and a privilege. Every leader has a remarkable story and having the opportunity to share it with the rest of Canada is an honour" said Juan Malvestitti, Principal of PMG. "We are committed to celebrating our industry and all of its achievements."
#reflections will be distributed through various industry platforms, including the RHB Newsreel and is estimated to reach more than 30,000 real estate executive across Canada.
Perpetual Media Group (PMG): Award winning brand management agency with over 70 years of real estate experience. Specializing in shaping and transforming corporate brands by creating content that inspires action.
To learn more about PMG are sign-up to receive #reflections, visit