Reducing Property Crime: 10 Ways to Create a Crime-Free Atmosphere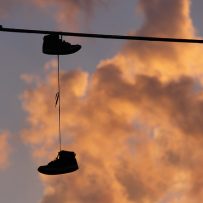 Those tennis shoes hanging from nearby telephone wires or electrical lines probably aren't because a few kids are fooling around after school. Dangling sneakers knotted together by their shoelaces are a sign that a serious problem may exist on your property.
Seemingly misplaced sneakers are among the many signs that your property may be ridden with crime, and that's not good for business. Drugs, guns and criminal mischief increases resident and employee turnover because of unsafe – sometimes dangerous – living conditions and attracts a negative reputation that detracts from curb appeal.
Brent Sobol of Legacy Community Housing Corp. and former undercover police officer, and real estate investor Mike Butler say property managers can make their properties more desirable by getting rid of the undesirables. Their message kept a throng of property owners and managers – mostly representing Class C properties – in their seats at June's National Apartment Association Education Conference & Exposition in Denver.
Reduce property crime and boost bottom lines
Creating a crime-free atmosphere, they say, is the best defense against attracting – or removing – residents and persons who create a nuisance for others living in the community and possibly contribute to property crime. Sobol and Butler call it an investment in the property that will pay dividends in the form of higher resident retention and occupancy, including potentially lower insurance premiums.
Simply, residents want to live in a safe place void of destruction, and insurance companies like that, too.
"When you get in an efficient crime-prevention program, you're going to see that your bottom line will explode, because now your community will be desirable," said Butler, the author of "Landlording on Auto Pilot." "The woman who lives in Apartment 3 is going to invite her family and friends to come over there, too."
Butler says property managers sometimes don't realize the power of the leases they hold when it comes to dealing with crime.
"(The criminal) is focused on the lease, not criminal code," Butler said. "When I worked as a police officer, do you think criminals gave a flying kahuna about the law? No, it's a revolving door for them. But if you threaten to call the housing supervisor, they will comply all the way, 100 percent. Your lease is more important and valuable to them than the law."
Identify property crime with quarterly unit inspections
Sobol, a third-generation real estate professional based in Atlanta, has taken a serious bite out of crime by routinely inspecting units and looking for signs that drugs and guns are present. In 2009, he was presented the first-ever Citizen of the Year Award by the Atlanta Police Dept. for pioneering efforts to reduce crime and create safer neighborhoods in Southwest Atlanta.
Sobol said criminals can quickly and easily build networks, and those more sophisticated may eventually grow their businesses large enough to lease multiple units under other names to spread out evidence.
He recommends conducting quarterly property inspections in accordance with state leasing laws and look for the tell-tale signs of drug activity such as sandwich bags, razor blades, Brillo pads, digital scales and lighters. Sobol also recommends following this 10-step checklist to help clean up or prevent a crime-ridden community:
10 Steps to Suppress Apartment Property Crime
Know Who's in Your Apartments – Walk your units at least twice a year, don't tolerate unauthorized occupants and use "knock and talk" technique with police. Also, ask suspicious people who aren't residents to leave.
Look at Where the Trouble Makers Go – The lease should define the number of days visitors are allowed to stay in an apartment before they must be added to the lease or are considered trespassers. If this is violated, do not be afraid to take the necessary legal steps to evict that resident.
Good Parenting Matters –You are not a babysitter of mentor to children. Do not tolerate parents who don't parent their kids.
Enforce Community Rules – Condition residents to follow lease terms. Use infraction notice forms to document incidents or build a case.
Get Graffiti Down Fast – Graffiti attracts negative attention. Remove it quickly, and vandals will likely stop doing it.
Befriend your Fellow Property Manager – Area property managers are likely experiencing similar issues, so reach out and make friends. While a competitor, your peer could become an asset in helping eliminate undesirables from the neighborhood.
Work with Law Enforcement and Security – Get to know the local district attorney and other law enforcement officials. Prosecutors and police department personnel are good sources to use when developing strategies to deal with the worst offenders for your locale.
Review Lease Details – Have residents initial key paragraphs in the lease that area designed to prevent crime and conditions that attract crime. Consider setting a "Meet the Manager" meeting so property staff can better acquaint themselves with residents.
No Hanging Out – Do not encourage residents and guests to loiter on the property. Sometimes, simply asking a loiterer if you can help them or who they are visiting is enough to make them go away.
Look Beyond Your Property Line to Improve the Entire Neighborhood – If that means cleaning up the vacant lot or median, or mowing nearby property that isn't yours, do it. Well-kept surroundings will help deter undesirables.
And keep an eye out for those sneakers.
Story by:  Tim Blackwell