REAL ESTATE EXPERTS BULLISH ON BUILT-TO-RENT MARKET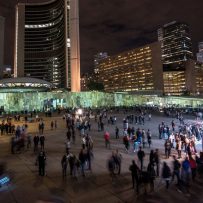 A panel of real estate experts discussed the issue of rental properties for the first Canadian-centred episode of Common Knowledge.
Benjamin Tal, deputy chief economist CIBC Capital Markets, explained that continued affordability issues in large Canadian markets like Vancouver and Toronto have him bullish on building rental properties.
"Supply is not keeping up with demand and there is considerable demand for rental as it becomes more and more difficult for young Canadians to get into the market," said Tal.
He added Canada will soon raise its immigration targets to 410,000, Canadians abroad are returning home, foreign students are stranded. This all adds up for high demand for rental housing, especially in Toronto and Vancouver.
And while Tal said it's obvious that supply is not keeping up with demand, the government has done little to increase it.
"We are trying to fight a supply issue with demand tools," he said. "Rental must be part of the solution to introduce affordability into the system and I think purpose-built is the only solution."
But because the economics of purpose-built rental projects can be tricky, Tal said government needs to incentivize developers to do them.
One the lowest hanging fruits is red tape. Tal said accelerating the process would free up time and money. He also encouraged the industry to innovate.
"We basically build the same way we did 40 years ago," said Tal. "We have to be more creative and innovative. Much more can be done. I don't see much innovation in the market, frankly."
Susan Tjarksen, managing director for Cushman and Wakefield, noted rental rates are growing at three per cent each year while incomes are growing one per cent each year meaning affordable rental housing is ripe for expansion.
She explained 30 per cent of students who come to Canada end up staying and young people are far more likely to rent rather than own. She added despite clickbait articles, overall young people continue to live in or near major cities like Toronto or Vancouver. And those who moved just a few kilometres away likely will make their way back as the pandemic wanes.
Her data shows the specifically co-living projects are performing exceptionally well in the U.S. She believes this is because they are affordable, often furnished, amenity rich and provide a sense of community for lonely city dwellers.
"They come for the cost convenience but stay for the community," she said. "This is a self-selected resident. They see it as an opportunity to meet new friends. It is a lifestyle choice they know they are signing up for."
She suggested letting co-living projects qualify as affordable housing units, particularly in dense urban environments.
Corey Hawtin, founder and CEO of Core Development Group, spoke specifically about the Toronto region, echoing Tjarksen's comments of the widening gap between income and rental rates.
"The trends are clear," he said. "We need affordable supply. We need to provide this for families and we are trying to have a positive impact in the communities we invest in."
Hawtin agreed with Tjarksen that co-living projects offer excellent affordability when positioned in amenity rich neighbourhoods.
"They are more affordable than the apartment next door and we learned early on that they are solving a loneliness problem that was already happening pre-pandemic and I believe it will be larger post-pandemic," said Hawtin.
He noted that 60 per cent of people in major Canadian cities are already living with roommates, so it is a lifestyle they are comfortable with.
From a business perspective, they can generate the yields needed to make sense.
"It is not a great world we are living in right now, but these buildings are communities and hubs where people can hang out and support one another," he said.
Ben Myers, president of Bullpen Consulting, said he was confident that despite anecdotal reports otherwise, he doesn't believe people are fleeing cities and the purpose-built rental market could be ripe for growth. He said groups like new Canadians are likely to rent when they first arrive and having amenities set up and a furnished room in an affordable co-living space is attractive.
"You don't have to worry you just get a suitcase and move right in and in a lot of cases you are paying a lot less," he said. "I'm bullish on it and I think it has legs"
He argued rising land prices and long approval times in markets like Toronto are some of the biggest barriers to increasing supply.
"Certain buildings in the 1920s were built in nine months and in Toronto it seems like it takes six years," he said. "That makes me shake my head. It's really shocking that we seem to be going in the opposite direction. Not only are we not getting better. We are getting worse."
Story by: Construct Connect