Purpose-built rental developments in GTA crucial to prevent 'full-blown affordability crisis': CIBC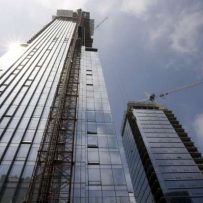 Story by: Sean Craig
The housing market in the Greater Toronto Area is in serious need of government intervention if living in Canada's largest metropolis is to remain affordable, according to a new report by Canadian Imperial Bank of Commerce.
While a foreign buyer tax will slow some activity, Benjamin Tal, CIBC's deputy chief economist, says municipalities in the GTA should introduce incentives to increase the supply of purpose-built apartments as the market approaches a "full-blown affordability crisis."
That potential crisis is fuelled by a 17.3 per cent increase in the average home price in 2016, which was far and away the biggest uptick since the late 1980s and has made the leap to ownership a more difficult prospect for potential buyers.
While the average rent in the GTA rose close to 12 per cent last year to a record $2.77 per square foot, the growth was driven by more expensive leases: 52 per cent of leases were above $2.75 per square foot in 2016, more than double the 25 per cent in 2015. Combined with reduced turnover rates, CIBC says this suggests that young families are increasingly accepting the rental market as their means for living in the GTA.
The reduced turnover contributed to a 9 per cent decline in the number of leases last year, while demand for rentals saw no decline.
"The GTA market is fast approaching a full-blown affordability crisis," Tal wrote in a note. "The market will eventually be tested when interest rates rise and/or the economy faces its next recession. What we do between now and then will determine the ability of the region to face that test."
CIBC argues that increasing the supply of purpose-built apartments — in the last two years the number under construction in the GTA has gone from less than 2,000 to more than 5,000— would make a significant contribution to heading off a potential market calamity.
Purpose-built apartments make up just over 16 per cent of new rentals, but the bank's analysts say that municipalities could take one or more policy steps to increase that number: including the expediting of approvals for purpose-built projects, "offer higher intensification rates for purpose-built developments", "cut the HST charged on the development" and the elimination or reduction of development charges, which are currently the same for condo and purpose-built projects.
The CIBC recommendation comes the same day that Teranet-National Bank reported an "especially worrisome" housing market in Toronto that pushed Canadian home prices to a record February increase.
Teranet-National's latest index showed that national home prices climbed 1 per cent last month, in an "unusually large" gain. Toronto was at the front of the pack with a 1.9 per cent jump in home prices, compared to 1.4 per cent rises in Hamilton and Vancouver, and a 0.9 per cent rise in Ottawa-Gatineau. Seven other Canadian cities in the index saw home prices decline.
Home sales also grew dramatically in February, rising 5.2 per cent nationally from a month before, according to new data published by the Canadian Real Estate Association Wednesday.
While CIBC said it expects recently introduced federal regulations, including the closing of the foreign buyer loophole, will marginally cool the housing market, CREA said further regulation should be cautious.
"In and around Toronto, many potential move-up buyers find themselves outbid in multiple-offer situations amid a short supply of listings,"said CREA chief economist Gregory Klump. "As a result, they aren't putting their current home on the market. It's something of a vicious circle from the standpoint of a supply shortage and a challenge for first-time and move-up home buyers alike."
By contrast, housing markets in urban markets elsewhere in Canada are either balanced or are amply supplied. Because housing market conditions vary by region, further tightening of mortgage regulations aimed at cooling the housing market in one region may destabilize it elsewhere, Klump said in a press release
The average house price nationally, according to CREA, climbed 3.5 per cent to $519,521 in February. Even with adjustments that factor seasonal markets and housing types, the average GTA price is well above the national average at $727,300, 23 per cent higher than it was just one year ago.