Property Managers…It's Time to Give a Damn About Your Bad Reputation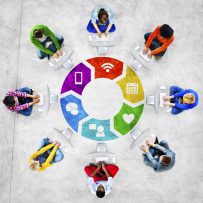 Story by: Dee Allomong
As I was pulling my thoughts and research together for this article, the classic Joan Jett tune, Bad Reputation, kept running through my mind. (Yes…I'm definitely an 80's girl.) In this song, Joan takes a defiant stance about uncomplimentary rumors and stories. Here are a few lines from the song:
…I don't give a damn 'bout my reputation
The world's in trouble, there's no communication
An' everyone can say what they wanna say
It never gets better, anyway
Managing a reputation was much easier in pre-Internet days. At worst, we worried about someone whispering a lie to a friend or scribbling a slanderous comment on a bathroom wall. Unless someone was famous (or infamous) lies, rumors, and blatant attacks were easier to control and slower to spread. That's just not the case anymore…
Shortly after it came out in 2008, I read the book, Groundswell: Winning in a World Transformed by Social Technologies. It gave an interesting overview of the way the social web was transforming business and the world in general. The definition provided for groundswell was "a social trend in which people use technology to get the things they need from each other, rather from traditional institutions."
The implication? Your clients have access to a myriad of social platforms that amplify their "voice." They are empowered to express their opinions publicly and their comments can influence people outside of their own social circles. Your property management company brand is no longer completely in your control. It is determined by what others say about you as much or more than what you say about yourself.
On the positive side, this social "groundswell" gives you better access to conversations going on about your property management company. But now you have to figure out how to leverage the good conversations and minimize the bad ones. Therein lies the challenge…
I know property managers don't need one more thing to think about. You are some of the busiest people I know. But you can't afford to take a Joan Jett-like stance about your online reputation. You need to care about it!
I suggest you go through three phases to evaluate and manage what is being said about you online:
Phase 1 – Deal with the past by identifying your current online reputation
Phase 2 – Deal with the present by analyzing root causes
Phase 3 – Deal with the future by creating an ongoing reputation strategy
Phase 1 – Deal with the Past: Identify Your Current Online Reputation
Whether you like it or not, the social web is a reality. A significant group of your prospective and current clients ARE using it. And it's influencing their choices on a daily basis – movies, restaurants, music…and even professional services, like property management. The opinions of others (even strangers) are more powerful than ever before. You can't escape the fact that people are talking about you, and you need to know what they are saying. Here are some ways you can identify your property management company's current online reputation:
Search for your company on Google and other search engines like Bing and Yahoo. What comes up first? Is it positive or negative?
Set up a

Google Alert

for your company name so you can monitor your reputation on an ongoing basis.
Search for key property management company personnel. What do their online reputations look like? After all, a company is only as good as their people. And, when a complaint is lodged online, a staff member may be cited as the guilty party.

Search Twitter

for mentions of your company's name.
Read through the reviews you receive on Google, Yelp, and other review platforms.
As you are researching, make a list with 2 columns: positive comments / negative comments. Keep track of what people are saying. What kind of impression would a prospect have if they were researching your company online?
Phase 2 – Deal with the Present: Analyze Root Causes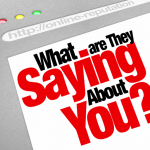 If you go through the process above and find your company has a stellar online reputation, congratulations! You are probably a rare case. All kinds of businesses will have some negative comments or reviews, but property management businesses are even MORE likely to have a "bad reputation." Why? Because they must balance the needs and priorities of two types of clientele – owners AND tenants. Sometimes, in the course of doing a GREAT job managing property, the action you take (even if it is the right action) is going to tick someone off. And unfortunately, angry people are more likely to post online reviews.
Before you get offended by the unpleasant comments, take a look at that 2 column list I mentioned above. Go through it and look for valid complaints or issues. Are the negative reviews based on isolated situations, or is there a bigger problem going on? Repetitive complaints may indicate a personnel, business, or system problem. If there is one shred of truth to the complaints, fix the problem(s) – – you DO have control over these areas of your business. It is easier to make positive changes within your property management company than to prevent people from posting negative reviews.
When dealing with negative reviews, there are times to respond and times to let them go. Here is a video blog from our friends at Fourandhalf.com that discusses the best ways to respond. These are some overall best practices:
Don't get emotional – respond professionally to all comments
Take discussion offline wherever possible – don't allow a comment to turn into a debate
Assume responsibility for mistakes and offer apologies – commit to changes where appropriate
Here is a decision-tree graphic attributed to the Air Force Public Affairs Agency. Integrating a process like this into your business practices may help you respond to reviews appropriately.
Phase 3 – Deal with the Future: Create an Ongoing Strategy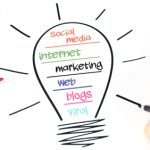 After addressing internal issues that are generating legitimate complaints, take time to brainstorm an ongoing strategy to keep your company's online reputation balanced and fair. Notice, I did not say you need to have a "squeaky clean" reputation – that could seem too good to be true. No business is perfect and to trying to appear that way can lead to suspicion too…
Here are a few tips for building an online reputation that is both positive and believable:
Ask for positive reviews, but never ever ever buy or incentivize for them. Earlier I said that angry people are more likely to post reviews about you. This is just human nature. You need to take opportunities to ask for positive reviews. Identify your company's "knock your socks off" service times and don't hesitate to ask for a review when someone thanks you for your good work!
Harvest spontaneous testimonials and use them on your website and other marketing materials. Happy clients probably send you thank you messages all the time. When you really love what they say, ask the sender for permission to use their comments in your marketing.
Actively produce content like blogs and Google Plus posts. This good content is indexed by the search engines and will help bury negative search results. Offer to provide guest blog posts for vendors, real estate partners, and professional associations to get positive content about you on other sites.
Engage in the

most popular social platforms

– Google Plus, LinkedIn, Twitter, Facebook (and if you can swing videos, YouTube). Use them to positively promote your business, to listen for negative commentary about you, and to stop negative "sparks" before they catch fire.
The social web is probably here to stay and the power of opinion will remain strong, so, property managers…it's time to give a damn about your online reputation.