PRIVATE INVESTORS HELP GROUP SAVE AFFORDABLE HOUSING IN PARKDALE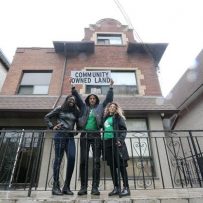 A Parkdale land trust has added some private financial muscle to its efforts to preserve affordable rental housing against intense gentrification pressures.
In a deal announced Oct. 26, the Parkdale Neighbourhood Land Trust has partnered with the Vancity Community Investment Bank in a new program that will empower the land trust to quickly acquire at-risk affordable rental buildings in Parkdale.
The Preserve and Protect Guarantee Program will give the land trust the ability to purchase rental buildings as they come on the market — to maintain those buildings as affordable rental units.
Without that help, the charitable land trust would be hard-pressed to repeat its 2019 purchase — made possible with $1.5 million from the City of Toronto and the Province of Ontario — that saved a 15-unit Parkdale rooming house on Maynard Avenue from conversion to higher-priced accommodation.
"Currently there are no municipal or federal programs that allow us to act so quickly," said Neighbourhood Land Trust executive director Joshua Barndt in an interview.
He said that typically a commercial real estate deal will find a buyer and close between 60 and 90 days of it going on the market — and funding through the city's Open Doors program must be applied for annually and can take six months or more before approval.
What the new program will do, is provide ready funding that will allow an immediate purchase of a property that comes onto the market.
"If we want to buy rental buildings and make sure they stay affordable, we need to have finance that we can use quickly and this does that. Investors have put this forward to allow us to act when we identify a building that's an appropriate candidate."
There are plenty of candidates.
"We did a neighbourhood-wide rooming house study in 2017 — the Parkdale Rooming House Study — and in that study we identified 198 rooming houses and bachelorettes, and 59 were at risk — they're tenanted and affordable but experiencing significant market pressures," he said, noting those 59 buildings contain 800 tenants.
"What we believe is if those buildings sell in the open market and are converted the housing will be lost as affordable," he said.
The new Preserve and Protect Program is initially expected to fund more than 40 affordable units in its first phase. It is funded to more than $4 million said Jay-Ann Gilfoy, the chief executive officer of VCIB, which also helped support the Maynard purchase.
"When we helped finance that we became interested in their model," she said in an interview. "We were quite excited at the work they were doing at the grassroots level to help prevent people who were living in rooming houses from losing their homes."
She said the project is in line with the bank's mission of investment in socially progressive programs.
So far, the fund is bolstered by investment from the Atkinson, Metcalf, ECHO and Fairmount Foundations. The program is open to additional investment, in the form of a VCIB Impact GIC that will be used to guarantee loans for the acquisition of at-risk properties.
Gilfoy said the program is one that might be replicated in other communities where affordable housing is under threat from gentrification.
In the meantime, the program is focused on Parkdale exclusively. The goal for the initial fund is $8 million.
Story by: Toronto.com