PRICES ARE FALLING BUT RENTS ARE RISING IN CANADA'S PARADOXICAL HOUSING MARKET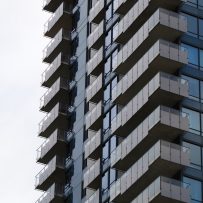 A paradoxical housing market has emerged recently in Canada. On the one hand are the falling housing prices and sales; on the other are rapidly escalating rents that have increased pressure on renter households.
Recently released data by the Toronto Regional Real Estate Board (TRREB) has revealed that the average rent for a one-bedroom apartment, the most common type of rental abode, increased by 20 per cent year-over-year in the second quarter of 2022.  The rents for two- and three-bedroom apartments increased by 15.3 and 12.8 per cent, respectively.
At the same time, supply is tightening. Rental apartments listed on the TRREB platform declined by 30 per cent in the second quarter compared to the past year. The number of leased one-bedroom apartments also declined, by 16 per cent annually.

Townhouses constitute the other type of housing that is popular among renters. The increase in townhouse rents was relatively lower, with two-bedroom townhouses increasing by 11 per cent over the past year. However, trends in there were not uniform, with the number of leased three-bedroom townhouses increasing by 25 per cent in the second quarter compared to a slight decline in two-bedroom rental townhouses.
The increase in rental demand is partially tied to the resumption of economic activities constrained earlier because of COVID-19. For example, college and university students, who had primarily retreated to parents' homes during the pandemic, will be back on campus in September. They have been actively leasing residences near university campuses since May.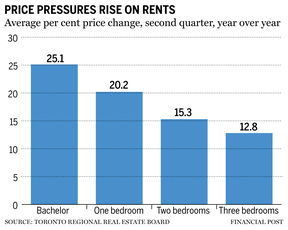 Another contributing factor is teleworking, which allowed many to work remotely from home during the pandemic. As a result, some workers gave up relatively smaller yet expensive leases near central employment hubs for cheaper and larger dwellings in smaller towns. With employers calling their workers back to offices, the demand for rental properties near employment hubs has been increasing, putting pressure on rents.
But rents have risen across the region, not just in centrally located neighbourhoods, thanks to tight market conditions. For example, TRREB data revealed that 76 per cent of the apartments listed in the City of Toronto were leased in the second quarter. However, 81 per cent of the listed apartments in the suburban York Region were leased, suggesting that the demand for rental space has been high in the suburbs as well.

A similar picture has emerged across Canada. The Canada Mortgage and Housing Corporation (CMHC) reported a tighter rental market in Halifax, where the vacancy rate fell below one per cent. Even in less populated markets, such as London, Ont., asking rents in June increased by 28.5 per cent over the past year, according to data compiled by Rentals.ca and Bullpen Research and Consulting.
Market conditions at times defy what is generally accepted in theory. For instance, urban economic theory suggests that housing prices and rents are intrinsically linked. This is because the value of a dwelling is assumed to be the present value of the future cash flows (rents) generated by a dwelling in perpetuity. Hence, when rents rise, so should prices. Yet, the declining housing values and rising rents suggest that theoretical models may not fully account for short-term dynamics.
At the same time, some widely held beliefs are not borne by statistical evidence. For instance, frustrated would-be buyers want housing prices to stop escalating rapidly or decline as a precondition for them to become active. Yet when housing prices fall, the would-be buyers leave the market in a hurry because acquiring an asset that is losing value makes little sense. Hence, home buyers are often more active when prices are rising.

An unintended consequence of falling prices is the increased pressure on rental housing. A decline in housing prices is often accompanied by a more pronounced drop in housing sales. This is because households who would have transitioned from rental to owned housing postpone the decision temporarily, resulting in their longer than expected stay as renters. Thus, the pressure on rental markets increases because new renters must compete for the limited number of available rental units.
Rental markets are expected to come under increasing pressure because of the expected increase in demand for rental dwellings. In addition, the anticipated arrival of thousands of new immigrants, who often start their housing careers in rental markets, the increase in rental demand near office hubs and downtowns as workers are being recalled to offices, and a decline in rental supply are some of the contributing factors to worsening of rental affordability.

A long-lasting fix to Canada's rental woes lies in a significant increase in the construction of new purpose-built rental (PBR) dwellings. The federal and provincial governments have launched numerous programs to encourage new PBR construction. However, much more is needed in government intervention to lure builders and developers into building rental housing.
Story by: Financial Post