Premiers call for end to tariffs, reboot on Canada-U.S. relationship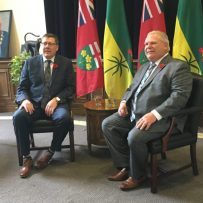 Three of Canada's premiers brought an earnest, brass-tacks message to the U.S. national capital Friday: hit the reset button on one of the most important cross-border relationships in the world by ending American tariffs on steel and aluminum imports.
Despite their conservative sensibilities, Ontario Premier Doug Ford, Saskatchewan's Scott Moe and Blaine Higgs from New Brunswick may seem a disparate trio. But their styles — Moe's analytical approach, the folksy charm of Higgs and Ford's bluntness — proved surprisingly compatible.
Higgs, who hails from the New Brunswick border town of Woodstock, told a panel discussion about growing up right next to Maine, watching lumber-laden big rigs carry Canadian logs to U.S. mills over a boundary that almost seemed an afterthought.
"I could throw a rock across the border; my best friend lived across the border," said Higgs, who traces the problems between Canada and the United States back to the 9/11 terrorist attacks in Washington and New York in 2001.
Nowadays, "you're thinking, 'Wow, what happened? What happened to our relationship?' We've got to get that back if we're going to be strong and continue to be dominant together in the world we live in."
The three premiers are in Washington to attend the winter meeting of the National Governors Association, which bills itself as a non-partisan, policy-over-politics gathering of state leaders. But their primary mission is to appeal to anyone who will listen for relief from the tariffs, which have been in place since last May and are taking their toll on the premiers' respective provincial economies.
Ford, the for-the-people leader who relishes giving out his personal cellphone number in public, raised eyebrows in Ottawa earlier this month when his government called on the federal Liberals to show goodwill by lifting its retaliatory tariffs, which have targeted some $16.6 billion in U.S. imports since June.
He appeared to be backing down from that "olive-branch" approach Friday, even if he wouldn't say so.
"I'm a businessman; I want to get the deal done," said Ford, conceding that the idea of blinking first in the tariff standoff has not gone over well with the steel industry.
"Let's make this thing happen. This is dragging out, and as it's dragging out, there's that magical word that companies hate: uncertainty. There's uncertainty on both sides of the border right now, while there's millions of dollars being traded."
U.S. Ambassador David MacNaughton clouded the waters further Thursday when he declared that an end to the U.S. tariffs would be at hand in a matter of weeks, although he refused to say why he believes that.
Moe, meanwhile, delivered a rapid-fire recitation of all the ways tariffs are jamming up the gears of the well-oiled integrations between Canada and the U.S. in the agri-food sector.
From soil-tilling blades and tractors from North Dakota, air drills from Saskatoon, crop-protection products from Michigan and Missouri, potash from a U.S. producer in Saskatchewan, trucks from Ohio and Pennsylvania and nitrogen from all over the continent come pulse products, oats and canola that are then again redistributed around the world.
"This is not an accident that our economy has become this integrated," Moe said, crediting not only geography but also more than 25 years of free trade between the two countries.
"We have to have a very serious look at the competitiveness of agriculture, steel, of our energy industry, of our car manufacturing industry, of all of the industries that we have from a North American perspective to ensure that we're able to compete with our competitors from other areas of the world."
Ford, who was scheduled to meet later Friday with the U.S. trade representative, said he planned to remind Robert Lighthizer that Canada is the largest and most important trading partner for 19 U.S. states, and second-largest for eight others.
"Nothing's carved in stone, but first of all I'd like to meet him, build a relationship with him," he said. "I want to tell him that there's millions of jobs at stake — not just in Canada, but here in the United States."