PREMIER DAVID EBY ANNOUNCES $500 MILLION FUND TO HELP NON-PROFITS BUY RENTAL BUILDINGS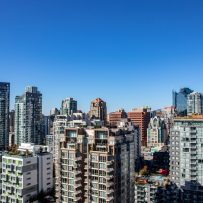 Non-profit housing providers, who have been asking for more money to address the housing affordability crisis, can soon tap into a $500 million fund to help purchase rental buildings slated for redevelopment and protect renters from eviction.
Critics, however, say half-a-billion dollars is a "drop in the bucket" when it comes to acquiring multi-unit residential properties.
The Rental Protection Fund, announced Thursday by B.C. Premier David Eby and Housing Minister Ravi Kahlon, will prevent older buildings from being scooped up by large corporations, such as real estate investment trusts (REITs), which often evict tenants to either renovate and charge higher rents or redevelop into high-end condos.

The fund, a key plank of Eby's leadership campaign platform, will provide one-time capital grants to non-profit housing organizations to buy rental buildings listed for sale.

During a news conference outside the Cardston Court co-operative housing development in Burnaby, Eby slammed the "predatory model" used by some large corporations that buy rental buildings as an investment vehicle, which "leads to evictions and rent hikes, and can lead to homelessness."
Many renters across Metro Vancouver have raised concerns about being evicted when an older rental building is snapped up by a property developer.

According to Canada Mortgage and Housing Corp. data, between 1991 and 2021, about 97,000 purpose-built rental units in B.C. were either redeveloped or converted to more expensive units.

"There is no feeling worse than waking up in the morning and seeing a for sale sign on the front lawn of the building that you live in," Eby said, "because it opens up a whole question about whether you're going to be able to stay in your home."

Eby said it's too soon to say how many buildings could be acquired using the fund but said it could finance "thousands" of units.

B.C. Liberal housing critic Karin Kirkpatrick, MLA for West Vancouver-Capilano, said $500 million isn't enough to acquire buildings across the province slated for redevelopment. For example, it cost B.C. Housing $132.6 million to purchase the 425-unit Cardston Court highrise apartments in Burnaby last year. Eby pointed to that purchase as an example in which the seller, a union pension fund, prioritized a buyer that would protect hundreds of tenants from eviction.
"I think in many cases we are going to see sellers preferentially selling to the non-profit sector," he said.

Eby hasn't yet announced progress on another plank of his housing platform that is to pass a law ensuring right-of-first-refusal for non-profit housing societies looking to buy low-rise buildings up for sale, thereby preventing a bidding war with private investors. Such a policy has been adopted by the City of Montreal. Eby said such legislation won't be ready for the upcoming legislative session but it's still on his radar.

The new fund was praised by the B.C. Non-Profit Housing Association and the Co-operative Housing Federation B.C., which first pitched the province on the idea in 2020.

Thom Armstrong, CEO of the Co-operative Housing Federation B.C., called the investment "groundbreaking."
"The powerful idea behind this initiative is that we can't keep losing affordable homes more quickly than we build them," he said. "This announcement is the shovel that's going to allow us to start digging back up."

Alex Hemingway, a senior economist with the B.C. branch of the Canadian Centre for Policy Alternatives, said the new fund doesn't address the overall housing shortage.

"We're moving some units out of the market into the non-profit sector, which is good," he said.

But Hemingway wants to see more funding for newly constructed non-market housing to add to the housing supply. Some Metro mayors have complained that shovel-ready affordable housing projects are languishing due to lack of funding from B.C. Housing.
B.C. Housing figures show a record number of purpose-built rentals — 14,546 units — were built in 2022, compared with 9,272 units in 2017.

However, a September study by the Office of the Federal Housing Advocate shows private equity firms, pension funds and real estate investment trusts are increasingly acquiring and developing housing as an investment strategy that is linked to unaffordable rents and evictions.

Mark Goodman, a commercial real estate broker whose company Goodman Commercial has sold more than 600 apartment buildings, primarily in Metro, said the fund is a step in the right direction but said "$500 million is a pittance in the scheme of things."

Goodman pushed back against the "false narrative" that REITs are predatory companies aimed at maximizing profits even if it means mass evictions. He blamed the shortage of rental housing on the B.C. NDP government's "ill-conceived policies," including rent controls that disincentivize the creation of new purpose-built rentals.
"REITs do not throw tenants out in the street," he said. "This is a very convenient narrative. It's politically expedient, but it's the farthest from the truth."

Goodman said there are cases where a 70- or 80-year-old building is dilapidated and needs to be redeveloped. But he said municipalities like the City of Vancouver have implemented tenant relocation policies that provide tenants with financial compensation, assistance in finding accommodation during the redevelopment, and right-of-first-refusal to move back into the new building and a rent 20 per cent below market rents.

However, tenant relocation policies differ depending on the municipality and isn't a provincewide policy under the Residential Tenancy Act.
The fund will be operational in the coming months and financed before the fiscal year end on March 31, which means it will be funded using the $5.7 billion budget surplus from the current fiscal year.

The fund will be managed by an external entity called the Housing Protection Fund Society, made up of the B.C. Non-Profit Housing Association, the Co-operative Housing Federation B.C., and the Aboriginal Housing Management Association.
Story by: Vancouver Sun