POPULATION GROWTH KEEPS CALGARY HOUSING MARKET ON THE BOIL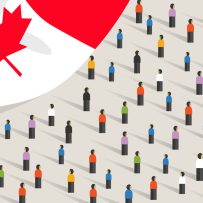 Population will be the main driver of housing markets for the foreseeable future, according to Scotiabank, with Alberta leading the way.
"Population dynamics are likely to continue playing an important role," Scotiabank economist Farah Omran reported in an analysis of the latest national housing market statistics this week. "We are currently experiencing the most rapid pace of population growth in 50 years. The federal government continues to set higher immigration targets with an increasing commitment towards more economic immigration, which translates onto higher population growth and demand."
She singled out Calgary as the market in Western Canada benefitting most from population-driven demand.
While all other markets in Western Canada saw housing prices off their pandemic-era peaks last month, Calgary is alone in seeing little change – down just 5 per cent, according to Canadian Real Estate Association data – and holding on to a 23 per cent gain in pricing versus pre-pandemic levels
Townhomes and apartments continue to see growth, while detached homes are stable.
"Calgary is seeing prices rising still and they are now higher than February 2022," Omran reported, attributing the strong performance to in-migration. "Alberta had seen a record-breaking increase in population over the past year, reflecting in part cheaper costs of living, including housing."
By contrast, Edmonton housing prices were down 10.5 per cent in December from their pandemic-era peak, according to CREA data, while remaining 8.5 per cent above December 2019.
Overall, Alberta housing prices were incredibly resilient, down less than 7 per cent from the peak in May 2022 and 18 per cent above December 2019.
But the high cost of housing in Alberta , which CREA pegs at $451,000 across all housing types (in Calgary, the benchmark prices is $506,400), means many people continue to seek rental housing.
However, prices here have also risen. While the annual rental market survey from the Canada Mortgage and Housing Corp. is due out later this month, a monthly market review by Rentals.ca in partnership with market analysis firm Urbanation reports that a one-bedroom apartment in Calgary increased more than 20 per cent in December versus a year earlier to hit $1,497 a month. For Alberta as a whole, rents increased nearly 17 per cent to $1,463 a month.
Similar to Scotiabank, Rentals.ca flagged population growth as the driver.
"Provincially, rent growth correlated with population growth," it said. "Ongoing strength in population growth and suppressed first-time home buying activity will be supportive of the rental market this year, although a more than 40-year high anticipated for rental completions in 2023 will help to temper further rent increases."
Nevertheless, Rentals.ca anticipates rents of purpose-built rental units as well as investor-owned condo units to rise 4 to 5 per cent nationwide this year. It says this in line with both household income growth and long-term rental rate trends.
Rentals.ca singles out Alberta as having "strong upside potential" in the year ahead.
Story by: Western Investor