Poloz Lays Down Some Markers for Cautious Rate Hikes in Canada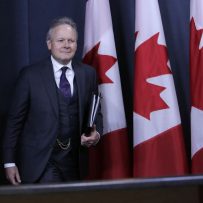 Bank of Canada Governor Stephen Poloz is unapologetic about his cautious approach to raising interest rates.
He faces constant criticism for stoking debt accumulation with cheap credit. His reluctance to match higher U.S. rates has fueled a drop in the currency. And now there's a new challenge: Canada's inflation is rising at the fastest pace in seven years, while at the same time, the jobless rate is at the lowest in four decades and the expansion is running up against capacity.
Even so, Poloz is willing to err on the side of nurturing an economy that's still feeling the effects of the last global crisis.
"It seems like a long time ago but we're still actually climbing that same hill, so we need to get the job done," Poloz said at a media round-table Saturday in Washington, where he was attending the spring meetings of the IMF. "We're at the intersection, but we wouldn't be there without policy."
Like central bankers elsewhere, Poloz is trying to figure out how to bring historically low interest rates to more normal levels without inadvertently triggering another downturn. To walk that line, he must answer two questions: where is normal; and how quickly should policy makers raise borrowing costs to get there?
In his comments Saturday, Poloz gave few signs he's in a hurry to raise rates. He dismissed, for example, the recent inflation spike, which he said will be temporary. He also said plenty of uncertainty remains over where the neutral level for interest rates actually is. While the central bank's base case estimate is somewhere between 2.5 percent and 3.5 percent, it's possible it could be as low as the current policy rate of 1.25 percent.
"It could very well be the rate it is today," Poloz said. "I don't really think that, but anyway, the point is, it could be."
That's consistent with his cautious narrative, and his reluctance to provide much forward guidance about the future path for rates.
But Poloz is beginning to lay out some markers. Particularly, the central bank is starting to underscore how negative real interest rates — a situation where the policy rate is below the inflation rate — is abnormal.
Read more about the central bank's view on the economy
"In a very basic sense, it seems odd for the economy to be back home and for the central bank to still have to have a negative real interest rate," Poloz said. "It's one thing to debate whether it should be zero, or half, or 1. You can debate that a lot, but it's not likely to be negative."
The Bank of Canada has already raised interest rates three times since July, but the benchmark rate is still three-quarters of a percentage point below the 2 percent inflation target.
That puts, at the very least, three more rate increases in the central bank's sights. A milestone for policy of sorts.
"It's another benchmark that's along the way towards the neutral rate," he said. "Just another frame of reference."
The pace to get there remains an open question.