Phasing in Energy Efficiency: Why Your Multifamily Building Needs Fixed Over Slider Windows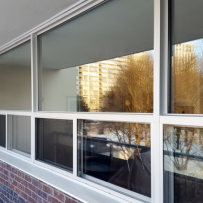 The average aluminum window cannot outlast the economic life of an apartment building. As such, building owners will look at replacing their windows at least once within the building's first 50 years of existence. The landlord benefits from energy savings due to less air leakage through the windows and tenants are able to live more comfortably with a more air tight seal. Aluminum sliding windows are being phased out for a window that captures the best of both worlds: great ventilation and even better energy efficiency.
Replacement fixed over slider windows will outperform other window types and solutions for window replacement. A high quality fixed over slider window will consist of a thermally broken aluminum frame, double pane glass and high performance weather stripping.
Alternative solutions such as caulking or retrofitting an existing window might cost less up front, but will not last as long as a full window replacement. Given the benefits of replacing old, drafty sliding windows with fixed over slider windows, landlords can make a great investment for the long term and keep their tenants happy.
Thank you to Zion Knafo, General Manager for Fibertec High Rise Windows and Doors, a Canadian manufacturer of replacement windows and doors for apartments and condominiums.
For more information about fixed over slider windows please visit www.fibertechighrise.ca or call (905) 660-7102.