Peterborough Housing Market Insight: Converted Buildings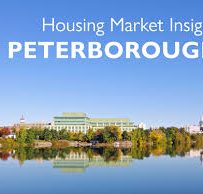 Challenges to housing affordability are common across Canada. Increasing new housing supply is one way to confront these challenges, but how should cities go about doing this? The construction of new buildings is one way. Another is to convert under-utilized non-residential buildings into residential rental units.
That's exactly what developers have done in the city of Peterborough. From 2014 to 2018, 198 rental apartments were created through conversion. That's more than the 183 new purpose-built rental apartments completed over the same period.
Our latest Housing Market Insight (HMI) for Peterborough looks at these converted units to examine:
data related to them and to new builds from 2014 to 2018
what income levels residents needed in 2018 to afford the converted units
the percentage of renter households able to afford converted units
Highlights on rental units created through conversion
Here's some of what stands out from our HMI:
Of all converted units created from 2014 to 2018, 94% are centrally located and close to social amenities and urban infrastructure.
About 44% of the converted units have rents at least 10% below market. These are community housing accommodations.
In October 2018, privately owned purpose-built units created through the conversion of non-residential buildings had higher rents than newly built rental units. On average, their rents were 9.5% higher.
We consider housing to be affordable if it takes 30% or less of the resident household's before-tax income. Considering this, renter households needed to make at least $44,100 in 2018 for a recently converted 1-bedroom apartment to be affordable. However, an estimate based on Census 2016 data suggests that before-tax income for renter households in Peterborough was $42,000 in 2018.
Around 33% of Peterborough renter households would be able to afford purpose-built 1- or 2-bedroom units that were recently converted and privately owned. This is based on the income distribution of renter households in Peterborough from Census 2016.