PARTNERSHIP SEEKS TO PROVIDE SOLUTIONS FOR TORONTO'S AFFORDABLE HOUSING CRISIS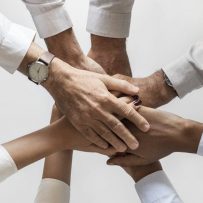 A new partnership between the public, private and non-profit sectors will create much needed affordable rental housing for single mothers in Toronto and provide a model that can be replicated to help others facing similar challenges.
Sun Life, Daniels, WoodGreen and the City of Toronto made the announcement Feb. 12.
"None of us have any doubt that we have been facing an affordable housing crisis for a very long time in Toronto, but also across the country. There is also no doubt that the pandemic has made things much worse," explained Mitchell Cohen, president and CEO of The Daniels Corporation. "The challenge is enormous, and it will take a concerted and a collective effort to change course."
New approach can make a significant impact on affordable housing crisis
The new model aims to utilize the resources of the non-profit sector, he added.
"It's a model that harnesses the social housing expertise of the non-profit sector, the development and construction engine of the private sector and the financial tools that government can bring to the partnership table," Cohen noted. "Under this new model all three sectors come together to create a partnership for affordable living demonstrating the magic that can happen when all stakeholders put their hearts and their minds together to realize a shared vision."
The goal is to engage all three sectors to do and deliver what they do best.
"The private sector delivers affordable suites integrated within our buildings," said Cohen. "The not-for-profit sector accesses those suites with zero capital risk and zero operating risk…and provides the wraparound services that will ensure long-term success for their tenants.  Municipalities contribute through a waiver of levies and property taxes."
Together Daniels and Sunlife will enter a long-term lease with WoodGreen for 34 affordable suites integrated within the Evolv building in Regent Park, a 29 storey, 246-unit market rental building. The suites, which will be ready this spring, are being leased to WoodGreen for 40 years at 80 per cent of CMHC's average market rent.
"A three-bedroom suite on the market at Evolv will be $3,300 per month but WoodGreen's rate is $1,410," said Cohen. "That's 43 per cent of market rate for a three-bedroom suite in downtown Toronto.
"Most importantly about this is a demonstration that is easily replicable," he added. "We are living in a time of historically low and prolonged interest rates that are low. As a result of that thousands of market rental apartments are under construction today and thousands more are in the pipeline."
Toronto Homeward Bound grads benefit from collaboration
Through the partnership WoodGreen will be able to house 34 mothers who have graduated from the Homeward Bound program and their children.
"The housing opportunity will be transformational for the women of the Homeward Bound program, women who have fled an abusive relationship or have lost their housing and ended up in one of our city shelters," said Teresa Vasilopoulos, executive director of The WoodGreen Foundation. "The Homeward Bound is a program that is a lifeline. It is an opportunity to transform lives and start over to have the opportunity of affordable housing available to them in Toronto's difficult housing market as they transition out of poverty and truly break the cycle of poverty and abuse for each of those families."
Toronto Mayor John Tory said this is the third virtual affordable housing announcement he has attended in the last few weeks.
"The government cannot and will not solve this affordable housing dilemma on their own and we need many more companies to follow the example being set today by Sunlife and by Daniels to incorporate this kind of thing into their developments," Tory said.
The city contributed $5.1 million from the Ontario Priorities Housing Initiative to WoodGreen who will use the money to lease and manage the buildings, the mayor explained, adding the city has also contributed over $720,000 in the form of waived property taxes for the next 40 years.
Cohen said all levels of government need to continue to create affordable housing now.
"It's not looking at a timeline that is five or seven years away, these are buildings that are under construction today so that in six months, in one year in two years, people can move in like the women, the mothers from Homeward Bound are going to be moving in this spring," said Cohen.
"This program, this partnership has the opportunity to make an impact today."
Story by: Construct Connect