PARCEL MANAGEMENT IN CANADIAN MULTI-RESIDENTIAL BUILDINGS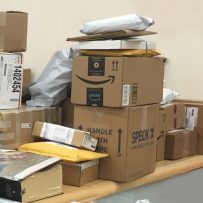 The Lay of the Land: A Solution to the Problem with Canadian Parcel Delivery Management in Apartments and Condominiums 
Canada is witnessing an explosion in the number of deliveries to residents in multi-residential buildings. This growth is due to e-commerce (online) purchases and now COVID-19 have pushed some parcel delivery companies to see a 30% surge in volumes in March 2020. While the success of e-commerce has its advantages, problems are arising due to the sheer amount of parcel deliveries.
Residents are looking for contactless delivery, items are becoming damaged and misplaced, front-end staff are struggling to deal with the volume, there is a lack of resources within condominiums and apartments to cope with the deliveries, and, worse, the safety of residents is being put at risk.
Here, we look at the increase in the number of parcel deliveries and the nature of those deliveries, explain why this is happening, address why problems are occurring, and offer some real solutions.
The Increasing Popularity of Resident Deliveries 
According to Pitney Bowes and before the pandemic deliveries were fast becoming more and more common. From 2014 to 2015, there was a modest parcel volume growth rate of 2.9%. From 2016 to 2017, this figure grows exponentially, with a 17% uptick in the number of parcel deliveries. The trend continues to rise with an increase of 20% from 2017 to 2018. Last month Canada Post reported parcel volumes at levels normally only achieved at Christmas, one day in April 2020 Canada Post alone delivered more than 1.8 million parcels.
So, what was happening pre-COVID-19? Millennials are happening. There are 9.8 million millennials in Canada, and this makes them the largest share of the Canadian population. Just as the baby boomers influenced Canada's culture three decades ago, the millennials are all set to inspire and shape our present and future. Canadian Internet Business says that 67% of millennials prefer to shop online. According to Forbes, e-commerce in Canada will be the largest retail channel by 2020, surpassing the choice to shop in actual brick-and-mortar stores.
The Changing Dynamics of Resident Deliveries
When you think about resident deliveries, you might conjure up a picture of an Amazon delivery, a neat package containing items such as clothes, books, games, or homeware. But it's not that simple. Deliveries include perishables, like the boxes of prepared foods you would get from HelloFresh, Chef's Plate, Cook It, Prepd, or Good Food. People order grocery deliveries from companies like Food-X, Spud, Sobey's, Instacart, Walmart, AmazonFresh, Grocery Gateway, Fresh City Farms, or Inabuggy.
The top 10 e-commerce stores in Canada, starting from the top are: Amazon Canada, eBay Canada, Walmart Canada, Best Buy Canada, Canadian Tire, Costco Canada, Home Depot Canada, Etsy Canada, Hudson's Bay, and Newegg Canada.
Sad to see only two Canadian companies in the list, but at least the others throw Canada into their name.
But there is plenty of room for Ecommerce to grow even more. According to Statista, baby boomers account for 35% of actual online revenue, and millennials represent 30% of the total. What will happen as millennials mature and inherit the earning power? Even more e-commerce purchases, of course.
Problems Associated with the Increase in Parcel Deliveries 
So, millennials account for the largest share of the population, and they like to shop online and have their purchases delivered directly to their place of residence. The problem is, many deliveries need to reach a resident living in a purpose-built rental apartment building or condominium. How easily a parcel reaches its recipient depends on how the building is serviced.
In general, there are two types of multi-residential buildings. The first type has front-end staff like a concierge or security staff. The other type does not. Most, if not all, buildings do have a property management company to oversee issues that arise, but there may not be a person onsite, and they may not be concerned with parcel management. Even where buildings do have front-end staff, a concierge, or a parcel management system, parcel deliveries are causing problems.
Time Wasted on Parcel Deliveries 
In the past, there were relatively few parcels, and the growth rate of deliveries was manageable. But now, the sheer volume of deliveries means the issue is getting out of hand. Front-end staff are reporting that parcel management has become their primary function.
Taking in a delivery and ensuring it reaches its intended recipient is a drain on an individual's time and has cost implications for employers. According to a Snaile survey of a Canadian Akelius building, on average, it takes just under 10 minutes to deal with each parcel. One of Snaile's customers observed the same timescale in one of their school campus buildings, and in 2015 Camden Trust in the US agrees, saying they are looking at costs of 3.3 million USD for their portfolio parcel management costs.
The 10-minute timescale includes time for front-end staff to accept and sign for the parcel when the carrier arrives, and then log the parcel's tracking number, intended recipient and storage location. They must then notify the recipient that a parcel has arrived, and hope that the resident comes to retrieve the parcel after their first call. When the resident arrives in reception, the staff member needs to retrieve the parcel from its storage place and correctly log its retrieval.
The second type of building — the ones with no front-end staff — faces a variety of obstacles. Many problems that arise can be put down to the number of different couriers and courier companies in Canada, and new ways which are emerging to facilitate the increasing demand for parcel delivery. For example, an Uber-type delivery service which allows drivers to pick up parcels from a distribution facility and get paid to deliver them, per piece, via an app is only one of these leading-edge delivery options.
Multiple Couriers 
It used to be that the six major carriers — Canada Post, Canpar, DHL, FedEx, Purolator, and UPS — serviced the market and followed straightforward commercial practices. If a recipient were home, the courier would deliver the parcel; if nobody was home, the courier left a delivery notice card.
Nowadays, it's not so simple.
Industry Canada lists just over 9,800 couriers in Canada. This number doesn't even include food companies that deliver pre-prepared meals and groceries. As a result, buildings with no front-end staff are facing a host of issues when couriers don't follow the commercial delivery practices that we have all been accustomed to.
Entry Console Abuse
Entry console abuse occurs when a parcel's intended recipient doesn't answer their buzzer or they are not home. The carrier randomly depresses other intercom unit numbers to gain access to the building. When that doesn't work, the carrier follows somebody else into the building, such as another resident, or service staff who have access. Snaile has even seen a carrier follow Canada Post in. Entry console abuse is not only annoying for residents but also poses a security risk when it becomes commonplace to see strangers entering and exiting the building.
Lobby Delivery Drops
These are deliveries of parcels into the lobby which become vulnerable to theft or loss. Parcels left in lobbies can even violate fire codes; you cannot have parcels blocking egress routes or leave combustibles in the common areas.
Mailroom Deliveries
It's the law in Canada that all buildings have a mailroom with a letter mailbox for every unit within that building. Sometimes, the letter mailboxes have larger compartments for parcels as well. The compartments are strictly for Canada Post to access, whether they are delivering letters, mail, or parcels. The compartments are not very big, and it's common to see parcels from all carriers piling up in the mailroom. These parcels are subject to theft, loss, and violation of fire codes. Parcels must not block egress routes, and unapproved combustibles must not be introduced to a mailroom.
Hallway and Vestibule Deliveries
When parcels are left in hallways and vestibules, they can be stolen, misplaced, or damaged. There may also be a breach of fire codes since parcels must not block exit routes, and unapproved combustibles must not be left in these areas.
The Solutions: Managing Resident Deliveries in Canadian Apartments and Condos
Building management companies can consider the following:
Hire more front-end staff to deal with parcel deliveries 
The costs associated with hiring and training reception staff may mean that this option is not feasible. There may also be times when there are not many deliveries, leaving staff with nothing to do.
Ban deliveries altogether
This may not be a decision that is favoured by residents. According to the A -Z Resident Preference Trend Survey 2017 Informa Canada, parcel delivery is the eighth most important amenity (of top 40). 92% of Canadian respondents in condos said parcel acceptance is mandatory, and 87% of Canadian respondents in purpose-built rental buildings said parcel acceptance is mandatory.
Install Canada Post parcel lockers that only service Canada Post
The problem is, this would leave a huge parcel management gap. According to Pitney Bowes, in 2017, Canada had 1.1 billion parcels (30 per capita). According to Canada Post, they handled 242 million parcels that same year. That leaves 850 million parcels that have to go somewhere.
Install smart lockers that are carrier agnostic
Snaile lockers are accessible by all carriers (carrier agnostic), and its product range includes oversized lockers. A Canadian company, they offer multi-unit automated parcel lockers that sanctioned by Canadian carriers and offer an English, French and Mandarin user interface. When you receive a notification by mobile phone or email, simply collect your package from your Snaile locker using a six-digit code or contactless QR code.
Story by: Patrick Armstrong, Snaile, Canada's Parcel Locker Company