PANDEMIC EXACERBATES LANDLORD-TENANT POWER STRUGGLE WITH BOTH SIDES CRYING FOUL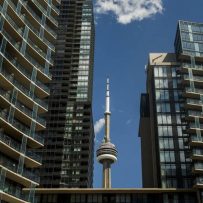 Dean Thornhill, a small-scale landlord and resident of Brampton, Ont., has been waiting for almost six months to get an eviction hearing at the province's Landlord and Tenant Board (LTB).
He claims problems with his tenants — who live in the basement of his home — started back in February. They were allegedly noisy and sent constant messages with "unrealistic demands," leading him to file an eviction application citing harassment with the board (none of his claims have been proven).
Then the pandemic hit, and Thornhill's tenants stopped paying rent.
His application is now part of a massive backlog of pending evictions, and he has no sense of when his case will be heard, if he'll get back the rent he's owed, or when the tenants will be legally required to move out, if at all.
"If we do not get a hearing for another six months due to the backlog, there will be nothing we can do," he said in an interview. "The system is broken."
Landlords argue that the rental system in Ontario has shifted the balance of power in favour of tenants, exacerbating problems they say existed long before the pandemic, while tenants say the backlog should be a secondary issue until the pandemic is over and the economy switches into recovery mode.
But as long as the status quo remains, landlords are feeling increasingly disempowered, driving a deeper wedge into their growing stand-off with tenants, especially in cities such as Toronto, where affordability has vastly eroded.
At the end of 2019, there were close to 15,000 unresolved cases at the LTB, a backlog of up to five months, according to data from Tribunals Ontario and conversations with former LTB adjudicators. COVID-19 has exacerbated that backlog: for public health and safety reasons, the province placed a moratorium on evictions in April, and hearings have only just resumed.
"If you file today, you probably won't get a hearing until well into the New Year, if even," said Harry Fine, a former LTB adjudicator who now runs his own company providing paralegal services for both tenants and landlords. "There are no in-person hearings, they are only doing it virtually, so that's bound to slow things down even more."
Tenant advocates say that until the pandemic is over and the economy switches into recovery mode, Ontario's moratorium on evictions is critical for the province's social fabric, particularly because the pandemic-induced recession has left many renters (who are often low-income earners) without income.
Small-scale landlords, however, argue that shutting down the eviction system puts them at a disadvantage. They, too, have bills to pay, and the eviction process backlog could potentially encourage tenants to delay paying rent even when they can afford it.
"I do think the system is fair when it runs properly. You cannot evict a tenant without reason," said Petar Guzina, a former LTB member who served as adjudicator between 2009 and 2019. "But what started to happen more frequently in the last two to three years, because of the growing backlog, was that some tenants started asking for compensation to move out. What I'm hearing right now is that this is happening even more often."
Guzina said he first noticed a mounting backlog in the processing of eviction applications about six years ago. He said the province back then had embarked on a series of cost-cutting measures across departments, and a number of adjudicator positions were removed.
"It increased the workload for members that were there," he said. "So the backlog started to get worse as time went on."
Some tenants started asking for compensation to move out. What I'm hearing right now is that this is happening even more often
Petar Guzina
In 2018, seven full-time and four part-time adjudicators left the board, and 10 others saw their terms expire. The outgoing Liberal government of Kathleen Wynne did not appoint new adjudicators, and the Doug Ford government failed on that front, too, until recently, when 15 new part-time adjudicator positions were created.
Fine said the amount of time to get a pre-pandemic eviction hearing varied depending on where you were in the province.
"Toronto was actually not too bad. You could get a hearing in maybe three or four months before the pandemic," he said. "But northern Ontario, for example, had no adjudicators. Eastern Ontario was short, too. I mean compared to when I was there in the 1990s, if you filed an application as a landlord for arrears of rent, you would get a hearing in two to three weeks."
But Kenneth Hale, a longtime tenant rights advocate and legal director for the Advocacy Centre for Tenants Ontario, dismisses the notion that a backlog in eviction applications has empowered tenants.
"First of all, we need to remember that most landlords in this province are large corporations, and, second of all, based on what these corporations have publicly told us, over 90 per cent of tenants are paying their rent on time," he said.
One of the largest residential landlords in the country, Canadian Apartment Properties REIT, on Wednesday reported it had successfully collected 98 per cent of June's rents, and will begin raising rents "where appropriate" as economies across the country reopen in phases.
Minto Apartment REIT, a prominent urban-luxury residential landlord also reported healthy second-quarter results, collecting a "vast majority" of rent owed by tenants for June.
"We can have a civilization that carries on without the need to forcibly evict people from their homes," Hale said. "There's this great importance that landlords and governments attach to evictions, as if the only reason why a tenant ever pays the rent is the threat of eviction. That's simply not true."
Yet, for Azhar Suleiman, a small-scale landlord who arrived in Canada from Bangladesh as a student 16 years ago and then invested in a one-bedroom condominium in Toronto to collect rental income while continuing to rent a room in a suburban house to reduce his own costs, ownership has come with issues he never anticipated.
In May, after two months of working from his bedroom, Suleiman made the decision to move into his condo unit. He gave his tenant two months notice and compensated him with a month's rent, as per provincial rules. The tenant agreed to move out, but on July 31, a day before he was due to move in, Suleiman got an e-mail from the tenant asking for another two months' worth of rent as compensation.
"I was frustrated. I asked him if he had lost his job, and he said no, but he just did not think it was fair for him to move out," Suleiman said. "There's really nothing I can do besides pay the amount. I haven't decided yet, but given the backlog at the LTB, there's really no point even filing for an eviction."
At the heart of the debate over tenant rights lies a fundamental ideological difference in what the term "housing" really means. Progressives look at housing as a human right, one that should be afforded to everyone, not just those who have the ability to own property, whether to live on or use as an investment vehicle.
The obligation imposed on tenants to pay rent isn't akin to walking into a clothes store and buying a dress, said Jennifer Keesmaat, the former chief city planner of Toronto who currently heads up her own think-tank, The Keesmaat Group, focused on urban issues.
Housing is a need, she said, not simply a want.
"Landlords are operating with a series of assumptions. Tenants are operating with assumptions, too. At the heart of those assumptions is a market-driven system that is insufficient in providing housing needs for everyone," Keesmaat. "This is why we have a tenants' bill of rights."
The balance of power between landlords and tenants has historically always been weighted in favour of the former, believes Caryma S'ad, a real estate lawyer who runs her own firm in downtown Toronto.
"Are things in favour of tenants (now)? Not really, but I would also agree with most landlords that it is certainly a challenge to get a tenant out unless the grounds to do so exist," she said. "Obviously, when things get delayed it appears to be advantageous for the tenant, but keep in mind there is also the stress and uncertainty that hangs over the tenant's head."
Before the Wynne government decreed in 2017 that rental buildings built after 1991 were subject to rent control measures that prevent increases beyond an annual inflationary amount, rents were astronomically increasing in Ontario, especially in Toronto and Ottawa.
For example, by the end of 2019, an 800-square foot condominium in Toronto was priced at $2,500 per month. Five years earlier, the going rate was $1,900, according to data from Urbanation.
"Vacancy decontrol, which was removed in 1997, meant that a landlord could re-rent at any arbitrary rate they decided to when a tenant moved out," S'ad said. "So landlords who had tenants for, say, 20 years, looked around at the market and felt they were not getting what they ought to for their property."
The reason for rent control, she believes, was ultimately to ensure tenant security, because there was a tacit acknowledgement by governments that housing is not just a commodity.
"You could call it a shift in balance of power," S'ad said. "But things weren't balanced to begin with."
Regardless, the pandemic appears to be compounding systemic issues in the rental market that have existed for years.
Harry Fine, the former adjudicator turned paralegal, said he is currently dealing with a client, a small-time landlord, who is owed $80,000 in rent arrears.
"The tenant's rent was $6,400 a month, and by the time (the landlord) even gets a hearing, she will be owed $100,000," he said.
It is a very difficult statutory regime for landlords, and it's been getting worse. I simply would not be a landlord for anything today
Harry Fine
The LTB only hears cases when the maximum compensation or amount sought is $35,000 — anything above that has to be sorted out in the provincial court system.
"That means she will now have to hire a lawyer, not a paralegal. Higher costs," Fine said. "Maybe you'll get back $75,000 in rent arrears, but how much do you have to spend to get that?"
Attempting to clear the backlog, the LTB recently said it has approved more than 6,000 evictions to date, a number that causes huge concern for tenant rights advocate Kenneth Hale, who believes the moratorium on evictions should continue indefinitely throughout the pandemic.
Further complicating matters, Ontario recently passed Bill 184, a controversial bill that appears designed to ease the LTB backlog, but which both landlords and tenants say puts them at a disadvantage.
One of the bill's key aspects is that it allows landlords to bypass the LTB and approach tenants in arrears with a proposed repayment plan — before applying to the board for an eviction if the tenant doesn't agree to the terms.
"A landlord could show up at your door and ask you to agree to something. Maybe you haven't read the agreement, maybe you have. Maybe you speak English, maybe you don't," S'ad said. "It shifts the onus and burden on the tenant, instead of having immediate access to a fair process."
But Fine said the bill means nothing to either side, because it doesn't adequately address the backlog issue, which to him is where the whole landlord-tenant system breaks down.
Story by: The Chronicle Herald