Pampered Pooches: Creating Pet-Friendly Multifamily Communities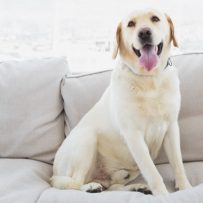 Story by: Tim Blackwell  |  Property Management Insider
Callie just seems to be spoiled rotten. She's the Blackwells' baby girl at the tender age of 8, and gets nothing but the best.
A plentiful supply of bones and snacks are always a nudge of the paw away, and she has a fashionable Thunder Shirt in her wardrobe to calm her on those stormy nights. Callie is easily identifiable by her embroidered name on her collar and "overnight" bag. When mom and dad travel, she lounges in a suite (sometimes with a TV) and has social time with other guests.
Unlike other family pets that grew up on dog chow and a leather shoe for entertainment, Callie chews bison rawhides and feasts on grain-free entrées of duck, turkey, quail and pheasant with fresh fruit and vegetables twice a day. The package calls it Recette de Gibeir a Plume Nourriture Pour Chiens. We have no idea what that means, but it sounds better than our dinners of frozen pot pies and chalky pre-prepared meat loaf.
So, our lovable Border Collie/Australian Shepherd mix is downright spoiled. Or so we thought.
Spending in pet industry on record pace
Turns out, Callie isn't the exception when it comes to pampered pets, but rather the norm.  Americans are sparing little expense when it comes to making sure our four-legged friends are well fed, groomed, housed and entertained.
In March, the American Pet Products Association (APPA) announced at its annual trade show that overall spending in the pet industry in 2015 was a record $60.28 billion. APPA projects that number to grow to $62.75 billion this year.
Food and supplies accounted for half of last year's total, but another chunk included grooming, boarding, training, pet sitting and pet exercise. At $5.41 billion, pet services posted the largest increase (11.8 percent) for the second straight year and more than tripled the growth percentage of any other category.
Younger pet owners may be one reason that the industry is flourishing. APPA's 2015 survey noted that more than 10 percent – or eight million – of today's pet owners are Gen Y and Gen Xers. The average length of ownership for all pet owners has declined, which suggests that new owners are entering the marketplace and replacing baby boomers, says APPA.
"The pet humanization trend is alive and well and continues to drive growth at the premium end of the market," said APPA President and CEO Bob Vetere.  "As millennials prepare to take the reins from the baby boomer generation as the primary demographic of pet owners, they stand to further develop this trend."
Younger owners – especially the Gen Ys – don't mind spending on their dogs or cats. They purchase more for their parents than their parents and grandparents, and want gadgetry like pet cams, electronic health monitoring collars and convenience products to take their pets with them or care for them while they're gone, Vetere says.
'If your pet is happy, hopefully your residents are, too'
The multifamily housing industry has recognized in recent years that residents seek living spaces where pet amenities exist. According to the National Multifamily Housing Council, 33 percent of pet owners rent apartments. Dog wash stations, pet parks, exercise stations, concierge services – even dog treats in the lobby – are becoming the norm at many communities.
Why? Robert Poynter, EVP and Chief Investment Officer at Monogram Residential Trust, says that a tail-waggin' pet can translate to a happy resident.
"People have pets and pets are a very important part of our residents' lifestyle," he said. "Twenty years ago we didn't have as many pets in apartments, and today it's a fact of life. The deals that we're building and designing today need to have the dog wash and pet park and all the pet-friendly amenities. The dogs like to have their area. It's very important. If your pet is happy, hopefully your residents are, too."
Younger pet owners gaining ground on baby boomers
Overall, pet ownership is on the rise. APPA notes that 65 percent of U.S. households own a pet, which equates to 79.7 million homes. In contrast, a little more than half of U.S. households owned a pet in 1988.
But the growth in younger owners is coming at a time when baby boomers – who pioneered pet pampering – may be losing interest in caring for furry companions. Historically the largest segment of pet owner population, boomers now make up only 37 percent of pet ownership.
"We knew this was coming as the generation that started the humanization and pampering of pets is aging," said Vetere. "But, what's important to note is that this is only one number over 20 years and is by no means indicative of a trend. In fact, the growing incidence of pet owners among the younger generations is so encouraging, we are extremely optimistic about the future of pet ownership and the industry that stands to serve those pets and their owners."
Whatever the age, owners are using social media networks and other online sources more often to find pets and pet products. They are also letting the dogs out more. Twenty eight percent of dog owners have been to a pet-friendly hotel and nine percent have dined at a pet-friendly restaurant.
The pet craze is even promoting social interaction among residents.  Multifamily Executive reported that AvalonBay hosts Doggie Paddle pool parties, Yappy Hours and pet CPR classes to bring pet lovers together in their community.
Just goes to show you that the multifamily housing industry isn't barking up the wrong tree.
Callie agrees, and would love to give her two cents-worth. But we have to go now. She's late for her spa appointment.