Oxford Properties looks to build up portfolio of rental buildings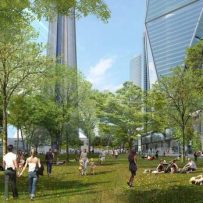 Story by: TAMSIN MCMAHON – REAL ESTATE REPORTER | The Globe and Mail
As investor appetite for rental housing grows, one of Canada's largest pension funds has plans to start building new apartment buildings.
Oxford Properties Group Inc., the real estate arm of the Ontario Municipal Employees Retirement System, already owns more than 9,800 rental units in apartment buildings in Ontario, Quebec and Nova Scotia, a portfolio worth about $1.4-billion.
Traditionally, the company has grown its rental portfolio through acquisitions. But as prices for existing rental properties climb and the supply of quality apartment buildings continues to fall, Oxford is increasingly setting its sights on developing new rental buildings itself.
"We certainly have a couple of serious opportunities that we're down the road in terms of evaluating and we hope that they come to fruition over the short-term," Tyler Seaman, Oxford's vice-president of hotels and multi-residential, said in an interview.
Oxford expects to expand its investment in rental properties to $2.2-billion over the next five years, Mr. Seaman said, with roughly a quarter of that growth coming from developing new rental properties, which it plans to own long-term and manage itself.
The company is looking at developing high-end luxury rentals in the downtown cores of major cities, close to transit, universities and hospitals, which would be aimed at graduate students, academics and medical professionals willing to pay premium rents. Its focus now is on downtown and midtown Toronto, and it is "actively looking" at building new rentals in Calgary, although it's closely watching the job numbers amid falling oil prices.
Oxford's shifting preference for building apartments, rather than buying them, comes in part because newer apartment buildings tend to bring in higher rents and have lower costs than existing ones. Expenses average about 30 cents for every dollar of rent compared to 50 cents for older buildings, Mr. Seaman said.
Despite low interest rates making it cheaper to build, the rising cost of construction and land means the Oxford will be selective about where it builds. "Construction costs for residential building are still relatively high. There's a demand for commodities and there's a demand for trades because of the condo boom we've experienced in Toronto," he said. "We just need to have the comfort that where we decide to build, we're going to build in a node where we can get a really, really premium rent per square foot per month to get an acceptable yield."
Oxford is also eyeing the prospect of building its own apartment housing because of the intense competition for Canada's aging stock of rental housing as institutional investors search for safe, stable assets. Prices of rental housing have jumped more than 50 per cent over the past decade, according to commercial real estate brokerage CBRE. In many cases investors are bidding up prices everywhere, pushing down yields both among prime properties and less-desirable buildings in secondary markets.
"We're finding that the market isn't really differentiating between the two in terms of yield," Mr. Seaman said. "This is why our focus is really on A-plus, quality assets in core locations in core markets. If we're going to reach up to pay up for an asset, we certainly want the quality and location to be there for the long-term."