Ottawa to phase out coal-fired power by 2030, diverging from Trump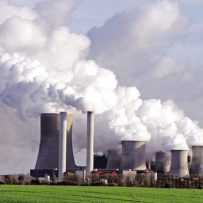 Story by: The Canadian Press
The Liberal government is moving to phase out the use of coal-fired electricity in Canada by 2030 as part of its overall clean-energy strategy.
The goal is to make sure 90 per cent of Canada's electricity comes from sustainable sources by that time — up from 80 per cent now, Environment Minister Catherine McKenna said Monday.
Coal power in Alberta, Saskatchewan, New Brunswick and Nova Scotia accounts for 10 per cent of Canada's total greenhouse gas emissions.
Under the federal plan, provinces can choose to completely phase out coal entirely, and replace it with lower-emitting sources — such as Alberta is doing — or they can use carbon capture and storage technology, McKenna said.
The move is expected to reduce greenhouse gas emissions by more than five megatonnes by 2030 — the equivalent of taking 1.3 million cars off the road. This is in addition to the 10 megatonnes that Alberta's early phaseout of coal represents.
The timetable includes an agreement with Nova Scotia to give that province the flexibility it needs to shift directly from fossil fuels to cleaner sources of electricity, rather than switching to natural gas in the interim. McKenna is working on an agreement with Saskatchewan.
Canada's coal-phase-out plan comes after the United States elected on Nov. 8 the Republican Trump, who has vowed to ease the regulatory burden on all fossil fuel producers, including coal.
The announcement is one of a series of measures the federal government is rolling out in advance of a first-ministers meeting with the provinces in early December to determine a broader climate-change plan.
"Tackling climate (change) is both a challenge and a huge opportunity," McKenna told a news conference Monday. "This opportunity will attract the investments required to build the clean-energy economy that will position Canada for great success in generations to come."
McKenna said Canada is blessed with an abundance of hydro, wind and solar opportunities and 80 per cent of Canada's electricity already comes from non-emitting sources.
"This has already positioned us as a global leader. We can always do better, though."
France, Britain, the Netherlands, Austria and Denmark have all announced accelerated coal phaseouts, she noted.
Globally, more than 2,400 coal power plants are under construction or being planned, experts say. Two-thirds of those are in China and India, according to a report by a dozen poverty and development organizations.
Countries phasing out coal include France, Britain, the Netherlands, Denmark and Austria, Canadian Environment Minister Catherine McKenna told reporters in Ottawa.
Shares in companies that own Canadian coal-fired plants were mixed on the Toronto Stock Exchange after the announcement. 
TransAlta fell five Canadian cents to $5.57 on Monday morning, while Atco Ltd's shares were up 14 cents to $43.25 and Capital Power rose 15 cents to $21.15.
With files from Reuters