OTTAWA STEPS UP TO PROP UP ECONOMY AS CANADA STRUGGLES WITH CORONAVIRUS CRISIS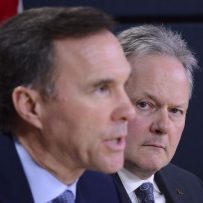 The federal government is adding $10-billion to the credit it makes available to businesses, and the Bank of Canada has announced an emergency rate cut to buttress the economy as it struggles with the coronavirus crisis and plunging oil prices.
Bank of Canada Governor Stephen Poloz joined Finance Minister Bill Morneau and Superintendent of Financial Institutions Jeremy Rudin at a news conference on Friday to announce the second steps in Ottawa's response to the economic fallout from COVID-19.
Earlier this week, Ottawa unveiled $1-billion for health research, unemployment insurance measures and help for the provinces.
Mr. Poloz said he's cutting the key overnight lending rate by 50 basis points to 0.75 per cent, saying the measure is needed not only because of economic fallout from the coronavirus but also the significant drop in oil prices. Crude prices are down nearly 50 per cent so far this year in a price war between producers Russia and Saudi Arabia.
Mr. Morneau announced that $10-billion in additional credit will be available to Canadian businesses affected by the economic fallout through Ottawa's Business Development Bank and Export Development Canada.
The federal budget, scheduled for March 30, will be delayed, but Mr. Morneau promised to unveil a "significant stimulus program" next week. Government House Leader Pablo Rodriguez did not give a new date for the budget.
"These are extraordinary times and that means we are ready to take extraordinary measures," Mr. Morneau said.
He said Prime Minister Justin Trudeau will have a conference call on Monday with leaders of the G-7 about the impact of coronavirus.
Mr. Poloz said the message should be clear that the government is ready to do what it takes to keep the economy sound.
"There are significant measures happening today and next week which I think people should see as a co-ordinated and very powerful package," he said.
The governor said he is concerned about how consumer and business confidence can weather the economic fallout, and warned that, without confidence, recovery could be prolonged.
"So these actions are meant to buttress that confidence and get us a bridge across the trouble," he said.
The Bank of Canada also announced it will help improve liquidity for a key part of the loan market by agreeing to buy banker's acceptances from financial institutions. These are a type of short-term loan commonly used by small and mid-sized businesses.
Bank of Montreal chief economist Douglas Porter said the Friday afternoon announcements indicate "just how unusual these times are."
He noted the Bank of Canada's cut in its benchmark overnight rate is the second reduction in a little more than a week. The overnight rate sets the basis for Canadian banks' prime interest rates.
Mr. Porter said he was a bit surprised by the timing of the rate cut. He thought the central bank might have waited until the next decision from the U.S. Federal Reserve.
"Obviously, urgent times call for urgent measures," Mr. Porter said.
Mr. Rudin, the federal banking regulator, said the Office of the Superintendent of Financial Institutions (OSFI) will reduce the amount of cash major banks are required to keep in reserve for emergencies, called the domestic stability buffer.
He said the buffer was last set at 2.25 per cent of banks' risk-weighted assets, and will be reduced to 1 per cent. Mr. Rudin said OSFI calculates this measure will support more than $300-billion of additional lending capacity by the major banks. "We are encouraging these institutions to use this capital … as required," he said.
Toronto Dominion Bank senior economist Brian DePratto called the $10-billion in additional credit support for businesses and eased reserve requirement for banks a "solid step in the right direction" for Ottawa. He said he expects additional fiscal measures "of at least equal size to support individuals and households" in Mr. Morneau's announcement next week.
Mr. DePratto said he expects the measures would also help the self-employed and those who don't work enough hours to qualify for Employment Insurance.
"Social and economic disruptions related to the virus will likely worsen in the coming weeks, but with the right supports in place, including those announced today, the peak economic impact has a good chance of being contained to a relatively short period," he said. "It will be hard to avoid an economic contraction in the second quarter due to social distancing efforts by businesses and overall activity, but a near-term recession is certainly not a forgone conclusion."
Mr. Morneau said the government is still looking for the best way to deliver financial help to those who need it the most, whether they are eligible for Employment Insurance or not.
"We need to think about how we can appropriately ensure that we can support people in different situations, and that is the work we are doing right now," he said.
Conservative MP Pierre Poilievre said Ottawa must avoid creating new bureaucratic structures to deliver the aid, and that new measures must be temporary to avoid fueling a long-term deficit.
NDP MP Peter Julian said the government's priority should be helping all affected workers, especially those without access to Employment Insurance or who work in precarious conditions.
Story by: The Globe and Mail