Ottawa: Planning committee OKs Baseline towers proposal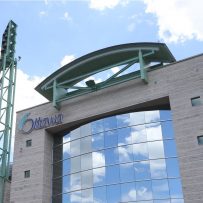 Ottawa's planning committee approved a development proposal on Baseline Road, just east of the Queensway-Carleton Hospital, after three years and many revisions to the developer's first proposal for the property.
The proposal by Brigil Construction for two properties at Baseline Road and Sandcastle Drive calls for 504 residential units in three highrise and one midrise building.
The highrise buildings, at heights of 10, 13 and 16 storeys, would be connected by a base featuring a 2,000-square-metre commercial space in the tower closest to Baseline Road.
The company first proposed a four-tower development for the site in 2011. Since then, there have been many community meetings and revisions to the proposal.
College Ward Coun. Rick Chiarelli, who supports the development, said the community achieved "significant gains in every area they sought gains."
Those concessions included fewer units, more than 150 additional parking spaces, and the all-important space on the ground floor, which residents hope will be a full-service grocery store.
On the neighbouring property, the current medical office building would be refurbished and an eight-storey tower would be built.
Council must still approve the plan, which requires a zoning bylaw amendment. The property is currently zoned for a building no taller than eight storeys.
The original 2011 application was for four towers at 2940 Baseline Road. But the developers also own neighbouring 2496 Baseline Road. In response to community concerns, the developer submitted a new application dealing with both properties.
Representatives from three local community associations commended Brigil for taking their concerns into account over the past three years. Scott Pegrum of the Qualicum-Graham Park Community Association asked for turning restrictions into his community from Baseline Road to avoid morning cut-through traffic.
One area resident, Cynthia Sutcliffe, said she remains concerned about the height and density of the proposal, as well as the additional traffic it will bring.
She also said she feels the local community associations have "thrown in the towel" on the development, tired of fighting other development battles.
But the community association representatives spoke in favour of the proposal and said they felt they had won concessions from Brigil in the three years since the initial proposal.