Opportunities abound in Montreal multi-residential market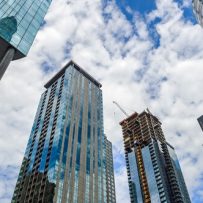 Minto Apartment REIT now offers more inroads in Montreal's thriving multi-residential market.
Earlier this month, the company announced its acquisition of a 50% interest in Rockhill, a six-building multi-residential property at 4850-4874 Côte-des-Neiges Road in Montreal.
"It is with great enthusiasm and pride that we are entering the strong Montreal rental market for the first time with the purchase of Rockhill," Minto Apartment REIT CEO Michael Waters said.
Built in 1967-68, the 7.6-acre property brings with it 1,004 housing units. It is located near the University of Montreal and Mount Royal Park. It is also situated closely to several hospitals and the Côte-des-Neiges Metro Station.
"Rockhill has the right foundation to become an even better place to live: an iconic property and a great community that we want to build on."
Altus Group stated recently that foreign investment in Montreal real estate went up by a massive 183% year-over-year in 2018.
The market owes much of the acceleration to foreigner-targeted policies in other large markets like Toronto and Vancouver.
"It's not a coincidence that after the foreign investor taxes in Toronto and Vancouver, interest moved to the Montreal market," Vincent Shirley of the Altus Group explained.
"Foreign investors originally looked at the Vancouver and Toronto markets but they also recognized Montreal as a discounted market. There are more factors involved than just that: The fundamentals in Montreal are really strong right now and the job market is very good too."