'Open for business': Doug Ford's Conservatives win Ontario election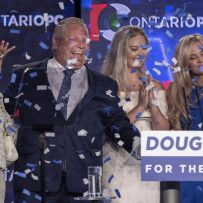 Doug Ford, whose populist message of smaller government and tax cuts drew comparisons to Donald Trump, will be the next premier of Canada's most populous province and economic engine.
Ford's Progressive Conservatives won 76 of Ontario's 124 districts in Thursday's election, according to Elections Ontario. His decisive win ends 15 years of Liberal Party rule, and his majority government will be able to run the province without the support of another party.
Ford, 53, a former city councilor and brother of the late Toronto mayor Rob Ford, ran on a "For the People" platform of tax cuts for businesses and the middle class, along with lower prices for gasoline and electricity. While the tax cuts, a pledge to reduce government "waste," and his plain-spoken tone evoked elements of Trump, there are key differences: immigration played virtually no role in the campaign, and first- and second-generation Canadians are core supporters of the Ford family's campaigns.
In his victory speech near Toronto, a beaming Ford declared Ontario is "open for business," pledging his government will usher in "an era of economic prosperity the likes of which Ontario has never seen before."
BOND FRIENDLY 
The Conservatives are promising to balance the budget over a "responsible time-frame" even as they pledge to cut taxes and increase spending on health care and infrastructure. Ontario's debt has ballooned under the Liberal Party, soaring to 37 per cent of gross domestic product, from about 27 per cent when they took power in 2003. Ontario, home to some of Canada's biggest companies and its financial services hub, is the largest sub-sovereign borrower in the world.
It's likely deficits will continue to flow and the provincial debt continue to climb over the over the medium-term, Warren Lovely, managing director and head of public sector strategy at National Bank Financial, said.
"But based on historical economic-fiscal performance or an objective comparison of the three platforms on offer, you might argue that Ontario just delivered the most bondholder friendly option on offer — a sturdy PC majority, and one that was reasonably well-telegraphed to boot," Lovely said in a note.
OFFICIAL STATUS 
The Canadian dollar weakened 0.2 per cent at 7:47 a.m. in Toronto, trading at C$1.3003 per U.S. dollar. Even though it's down 0.8 per cent quarter-to-date, it's still the best performing currency among 16 major peers tracked by Bloomberg. Ontario's 10-year bond yield fell one basis point to 2.93 per cent. The bonds have lagged the rest of the market this year, with a 0.9 per cent decline against the market's 0.5 per cent loss, according to a Bank of America/Merrill Lynch index.
Ford succeeds Kathleen Wynne, a five-year incumbent who conceded last week that she was headed for defeat. Her Liberal party had grown deeply unpopular amid rising electricity prices and voter fatigue. The Liberals won just seven seats, short of the eight needed to maintain official party status to fully participate in the legislature. Wynne, 65, stepped down as party leader.
Ford's main rival was New Democratic Party Leader Andrea Horwath, 55, who pitched tax hikes on corporations and high earners to finance expanded social programs. The Conservatives and NDP were neck and neck in most polls based on popular support, though Ford's backing was more widely spread across the province, leading to more seats. The NDP will now be the largest opposition party, with about 39 seats. The Green Party, meanwhile, picked up its first ever seat in the province.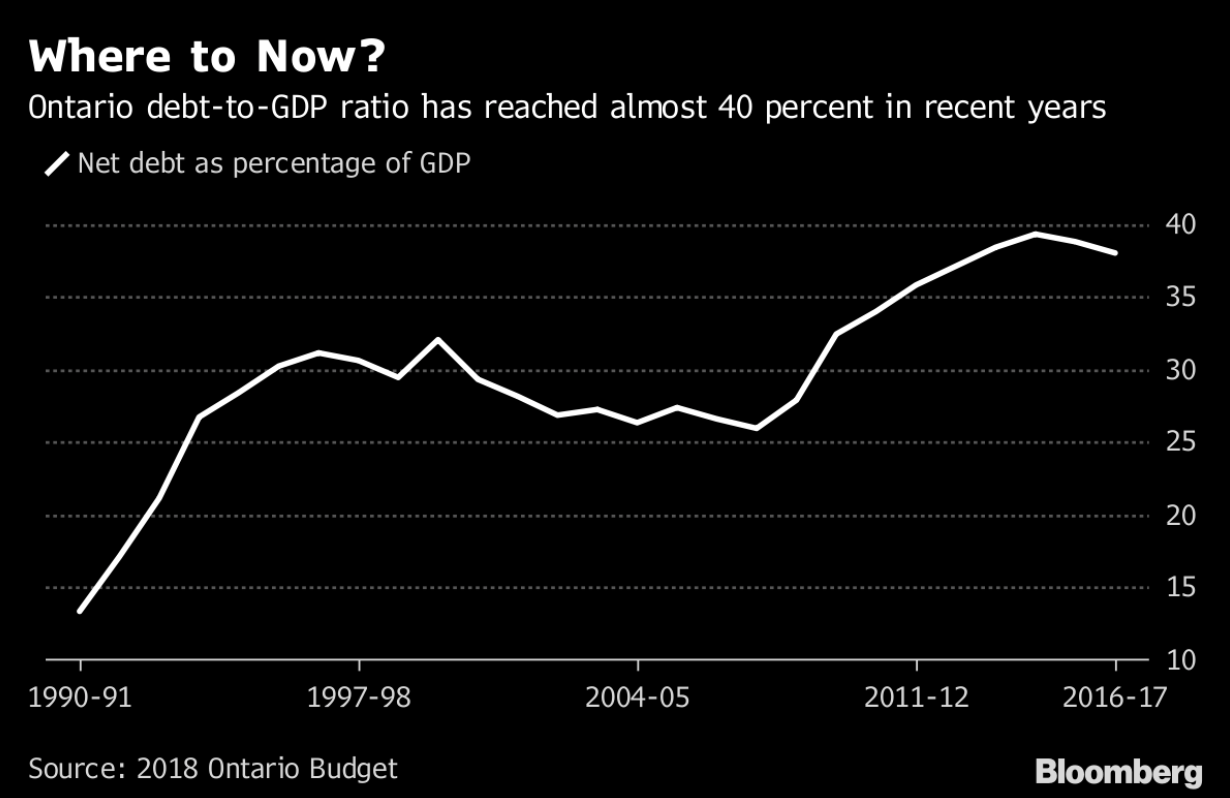 CARBON POLICY 
Ford also pledged to scrap the province's cap-and-trade program to reduce greenhouse gas emissions, setting up a showdown with Liberal Prime Minister Justin Trudeau, who has vowed to ensure every Canadian province adopts some form of carbon tax. Ford also wants to get rid of the chief executive officer of Hydro One Ltd., the provincial utility that was sold to investors through an initial public offering in 2015. It's not clear a premier has the power to do that as the government holds a 47 percent stake.
"If he wants to throw his weight around, he's going to find that's going to suppress the share price pretty dramatically," said Chris Waddell, a professor at Carleton University's school of journalism and communications in Ottawa.
Like his brother Rob, known around the world for his admission of crack cocaine use while running Canada's largest city, Doug Ford has a combative, anti-establishment, not-fussed-with-policy approach that evokes comparisons to Trump. The Fords built a political base known as "Ford Nation" in the west end of Toronto, helping elevate Rob to mayor in 2010, while Doug was a councilor and de facto co-mayor.
The Fords amassed a modest fortune through the closely held labeling business started by their father, Deco Labels & Tags Ltd., which Doug has run and expanded into the U.S. While Rob served as mayor until 2014, Doug was at his side and when Rob fell ill — he died from cancer — Doug stepped in to run for mayor, finishing second.
"I know that my brother Rob is looking down from Heaven," Doug said to roaring cheers. "I'm just getting chills talking about him right now."