Open Door Affordable Housing Program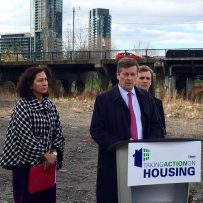 Toronto City Council approved the Open Door Affordable Housing Program in 2016 to accelerate affordable housing construction by providing City financial contributions including capital funding and fees and property tax relief, fast-tracking planning approvals, and activating surplus public land.
Open Door is designed to assist in achieving the goals of the City's Housing Opportunities Toronto: An Affordable Housing Action Plan 2010-2020 (HOT). HOT sets targets of 1,000 new affordable rental and 400 new affordable ownership homes annually. Council also approved Open Door's Investment Plan for 2016-2020 that provides funding to achieve the five-year targets of 5,000 new affordable rental and 2,000 new affordable ownership homes.
Open Door also calls on the federal and provincial governments to speed the delivery of affordable housing by releasing surplus public land, making new investments in affordable housing and increasing financial and tax incentives for developers.
News release (PDF)
Background
City Council adopted the Open Door Program direction in December, 2015 to improve the City's capacity to work with non-profit and private-housing sectors to create affordable housing at a faster pace.
Staff report (PDF)
Decision Document (PDF)