Ontario's Fair Housing Plan Could Hinder Purpose Built Developments and Rental Supply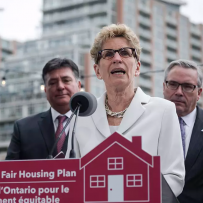 Premier Wynne announced that at the first opportunity, the provincial government will introduce legislation that if passed (likely with a majority government) will expand Rent Control to all rental housing in Ontario.  This would specifically delete the "post-1991 exemption". Vacancy decontrol and AGIs will remain.

 Some selected excerpts from "Ontario's Fair Housing Plan":
Actions to Protect Renters
Expanding rent control to all private rental units in Ontario, including those built after 1991. This will ensure increases in rental costs can only rise at the rate posted in the annual provincial rent increase guideline. Over the past ten years, the annual rent increase guideline has averaged two per cent. The increase is capped at a maximum of 2.5 per cent. Under these changes, landlords would still be able to apply vacancy decontrol and seek above guideline increases where permitted. Legislation will be introduced that, if passed, will enact this change effective April 20.
The government will introduce legislation that would, if passed, strengthen the Residential Tenancies Act to further protect tenants and ensure predictability for landlords. This will include developing a standard lease with explanatory information available in multiple languages, tightening provisions for "landlord's own use" evictions, and ensuring that tenants are adequately compensated if asked to vacate under this rule; prohibiting above-guideline increases where elevator work orders have not been completed; and making technical changes at the Landlord-Tenant Board to make the process fairer and easier for renters and landlords. These changes would apply to the entire province.
Actions to Increase Housing Supply
Establishing a program to leverage the value of surplus provincial land assets across the province to develop a mix of market housing and new, permanent, sustainable and affordable housing supply. Potential sites under consideration for a pilot project include the West Don Lands, 27 Grosvenor/26 Grenville Streets in Toronto, and other sites in the province. This builds on an agreement reached previously with the City of Toronto to ensure a minimum of 20 per cent of residential units within the West Don Lands are available for affordable rental, with an additional 5 per cent of units for affordable ownership.
Introducing legislation that would, if passed, empower the City of Toronto, and potentially other interested municipalities, to introduce a vacant homes property tax to encourage property owners to sell unoccupied units or rent them out, to address concerns about residential units potentially being left vacant by speculators.
Ensuring that property tax for new multi-residential apartment buildings is charged at a similar rate as other residential properties. This will encourage developers to build more new purpose-built rental housing and will apply to the entire province.
Introducing a targeted $125-million, five-year program to further encourage the construction of new rental apartment buildings by rebating a portion of development charges. Working with municipalities, the government would target projects in those communities that are most in need of new purpose-built rental housing.
Providing municipalities with the flexibility to use property tax tools to help unlock development opportunities. For example, municipalities could be permitted to impose a higher tax on vacant land that has been approved for new housing.
Creating a new Housing Supply Team with dedicated provincial employees to identify barriers to specific housing development projects and work with developers and municipalities to find solutions. As well, a multi-ministry working group will be established to work with the development industry and municipalities to identify opportunities to streamline the development approvals process.
Other Actions
Making elevators in Ontario buildings more reliable by establishing timelines for elevator repair in consultation with the sector and the Technical Standards & Safety Authority (TSSA).
To review the entire "Ontario's Fair Housing Plan", please click HERE. 
To review the "Making Housing More Affordable" news release please click HERE.