Ontario urges Morneau to be 'bold' amid competitiveness fears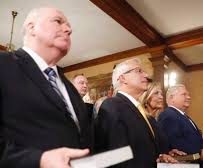 Two members of Doug Ford's cabinet are urging Finance Minister Bill Morneau to take "bold action" in his fall economic update to address a drumbeat of warnings about eroding Canadian competitiveness, according to a letter exclusively obtained by BNN Bloomberg.
Ontario Finance Minister Vic Fedeli and Jim Wilson, the province's minister of economic development, sent a letter to their federal counterparts on Friday urging them to focus on capital investment expensing as a key to making Canada a more attractive place to do business. 
"We would like to further explore discussions with the federal government and other provinces and territories on initiatives including 100 per cent in-year accelerated capital cost depreciation, and expand on issues such as scope and duration," the Ontario ministers added in their letter to Bill Morneau and Navdeep Bains. 
A finance department spokesperson was not immediately available for comment on the letter or Morneau's plan for the fall update.
Fedeli and Wilson sent their letter two days after the Business Council of Canada released a PwC Canada report that estimates $85 billion in gross domestic product and 635,000 Canadian jobs are at risk as a result of U.S. President Donald Trump's overhaul of the American tax code last year. Based on PwC's analysis, Ontario has the most at stake with more than $23 billion worth of provincial GDP at risk.
PwC was not alone in sounding the alarm bell about competitiveness this week. Suncor Energy CEO Steve Williams told BNN Bloomberg on Monday that global investors are losing confidence in Canada. On Tuesday, CIBC CEO Victor Dodig specifically pointed to accelerated capital investment depreciation as giving the U.S. a leg up on Canada.