ONTARIO SET TO INTRODUCE 'STRONG MAYOR' LEGISLATION TO SPEED UP HOUSING DEVELOPMENT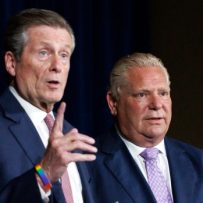 Ontario is proposing to give the mayors of Toronto and Ottawa veto powers over bylaws that conflict with provincial priorities, such as building housing.
Municipal Affairs and Housing Minister Steve Clark introduced the legislation Wednesday, saying the powers are being given to cities that are in the most urgent need of new housing and that are "shovel ready."
"The reality is over one-third of the growth over the next decade will come in the cities of Toronto and Ottawa," Clark said at a news conference.
"Our government needs to support efficient local decision-making to speed up development timelines. We're counting on municipalities to cut red tape and get housing built faster, so more families can realize the dream of home ownership."
The bill would allow the mayors of those two cities to override council approval of a bylaw, such as a zoning bylaw, that would hamper a set of provincial priorities that will be set out later in regulations.
But examples of priorities that government officials gave include the goal of building 1.5 million homes in 10 years and building critical infrastructure.
A council could override the mayor's veto with a two-thirds majority vote.
The legislation would also give the mayors the responsibility for preparing and tabling their city's budget, instead of council, appointing a chief administrative officer, and hiring and firing department heads, except for statutory appointments such as an auditor general, police chief or fire chief.
Toronto and Ottawa mayors diverge
Toronto Mayor John Tory said he would review the legislation, but that he supports the idea.
"I always want to make sure city hall is working more efficiently and effectively for Toronto residents and businesses and that we make it as easy as possible to get things done and that's what I'll be looking for as I read the proposed legislation," he said in a written statement.
But in Ottawa, the reception was quite different.
Mayor Jim Watson, who is not seeking re-election, said Ottawa doesn't need those powers, nor did he ask for them.
"I don't quite understand how giving me more powers is going to help build more houses," he said in an interview.
"We need more money from the province, because houses cost money, and we need more flexibility in rules, such as inclusionary zoning, which allows greater density in certain areas."
Ottawa mayoral candidates Catherine McKenney and Mark Sutcliffe have both said the city does not need a "strong mayor."
More cities could be added later
The mayors of other large cities have expressed interest in such powers, and Clark left the door open to adding more municipalities to the legislation at a later date.
"My message to other municipalities outside of Toronto and Ottawa is you need to be able to have shovels in the ground," he said. "You need to be committed to growth and to cutting red tape."
The Ontario Real Estate Association said the strong mayor legislation is a "good step" but would like to see it expanded beyond Toronto and Ottawa.
"More can still be done to address the existing housing affordability crisis, including ending exclusionary zoning in Ontario's highest-demand urban neighborhoods, which would allow for the building of duplexes, triplexes and fourplexes on lots traditionally zoned for single-family housing," CEO Tim Hudak wrote in a statement.
Ford did not indicate during the recent election campaign that he was planning to introduce such legislation.
Legislation is 'attack on local democracy': critics
The NDP and Greens said it amounts to Ford interfering in municipal politics right before the October municipal elections.
"Doug Ford's second term as Premier begins the same way as the first — with yet another attack on local democracy and the people of Toronto and Ottawa," Green Party Leader Mike Schreiner said in a statement, referring to Ford's 2018 move to cut the size of Toronto council.
"This time it comes disguised as a strategy to solve the province's housing crisis."
The legislation comes after Clark had previously suggested his efforts to take big steps on increasing housing supply were being stymied by municipalities.
The government passed legislation in the spring to streamline approval processes in a bid to boost housing supply but it lacked key measures advocates and experts have long urged, including changing municipal zoning rules to allow more types of housing to be built aside from single-family homes.
Clark said at the time that was because municipalities weren't on board, saying local councils are often "adamantly opposed" to the types of reforms he wanted to bring forward.
House prices in Ontario nearly tripled in the last 10 years, far outpacing income growth, a government-commissioned task force report said last year, but the province is 1.2 million homes — both rental and owned — short of the G7 average.
Clark also announced a Housing Supply Action Plan Implementation Team to tackle the task force's recommendations. The minister said he would appoint Windsor Mayor Drew Dilkens as chair, and Cheryl Fort, mayor of the Township of Hornepayne, as the vice-chair and will appoint other members later.
Story by: CBC News