Ontario Premier Kathleen Wynne admits she will lose provincial election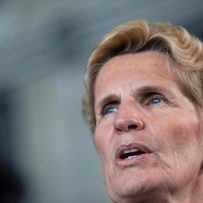 An emotional Kathleen Wynne admitted today that her governing Liberals will lose the Ontario election on Thursday.
The premier, whose party has been trailing behind the Progressive Conservatives and the New Democrats in the polls, is urging voters to elect as many Liberals as possible to prevent the other parties from forming a majority government.
Wynne wouldn't say whether she'd stay on as party leader following the vote.
She also declined to endorse the Tories or NDP.
Wynne says whichever way the vote goes, people should hope for a minority win to keep the government "from acting too extreme — one way or the other."
NDP leader Andrea Horwath is urging people not to vote for the Liberals, saying it won't lead to a minority government, it will lead to a Progressive Conservative majority.
Tory leader Doug Ford had little to say about the announcement, noting only that the election is about change and people are fed up.
Asked if he was surprised by Wynne's decision, Ford says his team is focused and has been focused on getting its message out.