Ontario most at risk among Great Lakes economies in NAFTA talks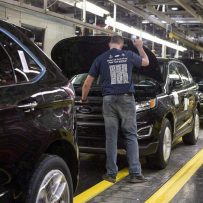 Ontario is most at risk among economies in the Great Lakes region to any NAFTA trade disruption as the Canadian province relies on U.S. exports for a quarter of its output, according to a report from Bank of Montreal.
"Its economy is arguably the most integrated with the U.S. through well-established supply chains," said the report by Robert Kavcic, a senior economist at the bank.
Quebec by contrast has only about 11 per cent of its economy tied to U.S. exports, given its diverse shipments to regions like Europe, according to the report presented Friday at the Great Lakes Economic Forum in Montreal. U.S. states in the Great Lakes region have much less to lose from the end of the North American Free Trade Agreement, with areas like Michigan relying on Canada and Mexico for about 7 per cent of gross domestic product.
The US$6 trillion economy in the Great Lakes area will expand 2.2 per cent this year, up from 2 per cent in 2017, according to the report. That will top growth for Canada alone, which is pegged at 2 per cent. Michigan will have the fastest growth for the region, at 3 per cent, followed by Indiana at 2.6 per cent.
The Great Lakes area accounts for 30 per cent of the combined Canada-U.S. labor force and economic activity, and would be the third-largest economy in the world if it were a country, trailing only the U.S. and China, according to the report
"Uncertainty on the trade front is currently the biggest concern" for the region, according to the BMO report.
Senior trade officials from Canada, the U.S. and Mexico are scheduled to resume talks in Washington on May 7 in a bid to reach a deal on a revamped NAFTA.