Ontario Government Announced its Housing Supply Action Plan: More Homes More Choice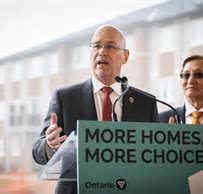 The Honourable Steve Clark announced the provincial government's Housing Supply Action Plan. The measures proposed will help get more purpose-built rental housing built in Ontario. It will reduce barriers to development by:
Speeding up the development approvals process by reducing the costs of delay
Controlling fees and charges that must ultimately be paid by the renter
Updating policy to encourage more units in the right places, like transit hubs, and other places where density is both needed and appropriate
Further details on the plan will be available once legislation is tabled, but we applaud the vision, and the courage of the Government in taking bold action to address the housing shortfall, and making more purpose-built rental housing available for Ontarians who need it.
For more information please click here to access the Government's website.