Ontarians Are Quickly Losing Access To Affordable Housing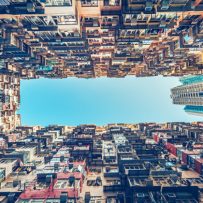 Ontario's vacancy rate is at the lowest level in 17 years, and there's no relief for us on the horizon.
It's official. Ontario's vacancy rate is at its lowest level in 17 years, and there's no relief on the horizon.
The most recent report by Canada Mortgage and Housing Corporation (CMHC) painted a grim picture of the province's rental market, revealing that Ontario's purpose-built vacancy rate dropped from 2.1 per cent to 1.6 per cent in the last year. In the City of Toronto, rates are at just 1 per cent, down from 1.3 per cent the year before. Other regions are feeling the squeeze as well, with vacancies down to 2.4 per cent in Hamilton, 1.8 per cent in London, 1.7 per cent in Ottawa, 1.3 per cent in Brantford, and just 0.7 per cent in Kingston.
For would-be renters struggling to find affordable housing, the numbers don't come as a shock. With more people opting to rent longer, turnover rate for rental units is down across the country, due in part to lifestyle, smaller household sizes, or the inability to own a home in the current market. And it will only get worse as more people move to Canada's biggest cities.
At the Federation of Rental-Housing Providers of Ontario (FRPO), we have been sounding the alarm in recent months for government leaders to play their part in creating an environment that will allow for new purpose-built rental supply to address the problem. Back in September, we commissioned an Urbanation report that warned the province's rental housing supply will continue to diminish unless at least 6,250 additional new rental units are built each year for the next decade. With the CMHC predicting that rental vacancy rates will continue to decrease in 2018 and 2019 as demand continues to outpace supply, our warning appears to have been warranted.
Everyone knows there's a problem with rental supply.
After the province released its new housing policies, which included strict rent controls, planned rentals have been cancelled and turned into condos. The economic and regulatory environment is counterproductive to the development of new rental stock. While the provincial government has taken steps to increase supply — including releasing several parcels of government land for new rental housing development and introducing a $25 million-a-year rental development charge rebate plan — these steps are far too modest to make a real dent. More needs to be done.
There are two options. One, the provincial government ensures that for new purpose-built rentals, rates increase along with inflation plus a small percentage to provide the modest return on investment necessary to encourage growth in the province's purpose-built rental supply. This is the model in British Columbia. Another option to achieve this outcome would be to exempt new purpose-built rental units from rent control for a select number of years, a policy Ontario had under the New Democratic Party and which Quebec has today.