ONLY THE MOST EXTREME RENT INCREASES SHOULD BE CAPPED IN NEW BRUNSWICK, REVIEW FINDS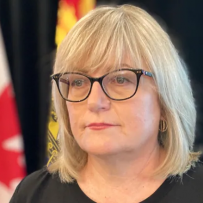 A review of the province's rental housing market is ruling out a cap on rent increases in all but the most extreme cases.
The report, drafted by civil servants and released, Friday says creating more incentives for the construction of new units is a more workable way to address the supply crunch in the white-hot housing market.
It calls for "better protections against unreasonable rent increases" but Executive Council clerk Cheryl Hansen, the province's top civil servant, told reporters that does not mean "across the board" rent controls.
"We have discovered that a far more comprehensive approach is required," she said, though in response to a reporter's hypothetical question she said the province was open to restricting extreme increases in the 25 to 30 per cent range.
"I would suggest that we do not need to have that across the board."
Officials say limiting rent increases to once a year, and requiring landlords to give tenants more notification of hikes, would help alleviate the phenomenon of soaring costs seen in recent months in the province.
Earlier this year Statistics Canada reported that rent paid on accommodations in New Brunswick between March 2020 and March 2021 rose 4.8 per cent, the largest increase in the country.
Nationally, rents inched up a fraction of that, an average of 0.5 per cent, over the same period.
Hansen said Friday that the lowest-income New Brunswickers have seen rents increase by 34 per cent in the last decade while their incomes have risen only 18 per cent.
But officials who briefed reporters said a cap on rent increases could have "negative consequences" for the housing market, creating a disincentive for landlords to build new units. They also said rent control tends to benefit higher-income renters the most.
Higgs responded to the report within hours, telling reporters he has "sympathies" for tenants who experience "rate shocks."
"I believe there needs to be some protection there for tenants in relation to the frequency and the extent to which a rate could be changed in a span of time," he said.
He attributed part of the phenomenon to more people moving to New Brunswick for work and driving up demand for housing, which he suggested has given apartment owners an opening to raise rents.
"Did we have some cases where landlords looked at the market and said 'Now's our chance?'" he said. "I don't want people's livelihoods and situations played with just because it's the right time."
Sarah Lunney of Acorn New Brunswick, a group advocating for low-income people, said she was disappointed with the rejection of rent control and rejected the rationale.
"Saying that rent control disincentivizes development, that's just not a thing," she said. "I don't agree with that. Other provinces [with rent control laws] are still developing housing."
She said restricting rent increases to once a year would not do anything to protect people from big increases.
"You would still need some kind of rent control to ensure that when that one time a year comes around, tenants aren't being forced out of their buildings at that time of year."
Abram Lutes of the Common Front for Social Justice said he was disappointed the report dismisses the role of non-profit housing. The document quotes a developer saying the non-profit sector lacks the "knowledge and experience" to build multi-unit apartments.
"The information in the report is useful in terms of knowing how bad the situation is, but the recommendations are inexcusably inadequate given what's been reported in the document," he said.
The report says large rent increases are being driven by a changing rental market: more people are working longer, the population is increasing and older people are downsizing into apartments.
At the same time, a growing number of remote workers are looking for more space so they can have a home office, and the growth of short-term vacation rentals is removing some apartments from the monthly rental market.
Meanwhile, shortages of construction workers can slow the building of new apartment stock.
"We're not necessarily in a crisis, but a crisis is pending," Higgs said. "We've got a situation we can't ignore."
The report says housing is seen as both a human right and as a business.
"These truths do not always co-exist comfortably and can polarize conversations."
Premier rejects suggestion of influence
Higgs said he didn't think his comments earlier this year opposing rent control influenced the report, which despite being drafted by civil servants was described as an independent process similar to a third-party study.
"I don't think anyone would suspect that I would feel any differently about putting price controls on the free market. That's a position I've had for a long time," he said.
The report does not comment on a proposal pushed by developers to cut property taxes on apartment buildings by removing the provincial portion of the tax.
Hansen said that's being looked as part of work on local government reform. Higgs announced a phase-out of the provincial portion of the tax in the March 2020 budget but cancelled it after the COVID-19 pandemic began.
Story by: CBC