One of Vancouver's most ambitious commercial-residential developments is being scaled back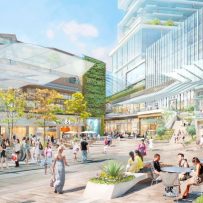 Story by: Jeff Lee, Vancouver Sun
Ivanhoe Cambridge, partner Westbank Projects are reducing size of $1.5 billion Oakridge development by as much as 25 per cent
Just a little less than two years ago a split Vancouver city council agreed to an ambitious plan to massively densify Oakridge Centre. Nearly 3,000 residential units in towers up to 45 storeys would be built and the commercial retail space of the 60-year-old regional mall would be grandly expanded into the largest of its kind in the city.
But on Tuesday the landowner, Ivanhoe Cambridge, and its residential partner, Westbank Projects, signalled a retrenchment, a scaling back by as much as 25 per cent because of geotechnical issues underground and relationship issues above ground. Both issues would have stretched out the construction timeline and threatened to make the $1.5-billion project uneconomic.
Now the city says the proponents may have to go back to square one and make a new rezoning application, rather than simply amend the existing one. And that means a new public hearing, new plans and possibly the renegotiation of the existing $148-million community amenity benefits package promised to the city, all coming at a time when city staff are busy with other major projects.
"Our information is that it is of such a scale it would be a new application. We've got to redo this," said Jane Pickering, the city's acting director of planning. "This isn't just a small thing that we can alter as we go along. I think it is a fundamental shift in what the original development proposed."
The eight-block site is smack in the middle of Vancouver's new Cambie Corridor plan, a linear densification around Canada Line transit stations between King Edward Avenue and Marine Drive. By the city's standards, Oakridge would become the regional town centre. The project generated some controversy, particularly for the developers' plans to meet public benefit demands by placing a 3.6-hectare park on the top of a two-storey mall.
But Ivanhoe and Westbank say they now want to scale back the proposed 4.6-million-square-foot development by about 1.1 million square feet, including 800,000 square feet of retail space. They would drop up to 500 residential units, scrap two or three residential towers and cut back 2,400 parking spaces. The mall would be scaled to one storey, with one-third of the park now built at ground level.
They said they don't plan on altering the public benefits package, which includes the park, a 70,000 square foot community space, and 20 per cent of residential units designated as affordable housing. However, Pickering said the community benefits package could be renegotiated if a new rezoning application is required.
Paul Gleeson, Ivanhoe Cambridge's executive vice-president of global development, said the discovery of a larger-than-anticipated aquifer underneath the mall is complicating construction plans for a third level of parking, driving up engineering costs. At the same time, the company realized the scale of the project was just too large and would have hurt existing tenants, all of whom would have to be moved or close. The loss of retail giant Target, which abandoned Canada last year, also hurt. It was one of a pair of two-storey anchor tenants, the other one being Hudson's Bay.
"As we got into it, it became more and more challenging with the larger scheme. It was having just too much impact on the existing centre," Gleeson said. The existing retail tenants would have faced up to eight years of construction. "That is tough to sell to tenants, most of whom are in 10-year leases," he said.
Pickering said she can't remember the last time a major approved project was scaled back, and that this one comes at a difficult time for the city.
Planning staff are already busy with several major projects, including the Georgia and Dunsmuir viaducts, the Grandview-Woodland area plan, the next phase of the Cambie Corridor and the employment strategy for the False Creek flats," she said.
"If we have to go back and look at this particular application, we have other big things we are also trying to land," Pickering said. When the project was first proposed, the city negotiated a deal to be reimbursed more than $1.1 million in staff time. Pickering said that kind of a deal may be required again.
Westbank Projects owner Ian Gillespie said he doesn't think the community amenity benefits package needs to be altered, even though the project is being reduced in scope. Bringing part of the park down to street level is also a better idea, he said,
"I think this park is one of the most important aspects of this," said Gillespie. "I want this park to be what makes this project really special. I want people in Singapore writing about this park."
Gillespie said Ivanhoe and Westbank went back to the city late last year to initiate new discussions. They submitted a new design just before Christmas but have not yet heard back from the city.
Oakridge occupies a special place in the city's hierarchy of neighbourhoods. It is the only regional town centre outside the downtown core identified in Metro Vancouver's regional context statement. That, Pickering said, complicates any changes contemplated in city council's March 2014 rezoning approval.
"Outside of our downtown this is the next conglomeration of density in our city. This is of the scale and density and form of what a town centre would be," Pickering said. "That is what we measured the previous application on and that is what we accepted it on and this new one will have to meet the same sort of goals."
Gillespie said it made sense to reconsider the scale of the project.
When we discovered the extent of the aquifer, that was one hit. Then the second hit came when Target pulled out. And then when we looking at the phasing of how we were going to have to juggle retail tenants around to keep the mall open, all those things came together to show we had to come up with another plan," Gillespie said.
"We could solve all these things if you threw enough, hundreds of millions of dollars, at them, but if you do the plan starts to become uneconomic. It was getting to the point where the plan was becoming uneconomic."
jefflee@vancouversun.com  |  Twitter.com/sunciviclee