Oil Price Collapse Is Making Canada More Equal: BMO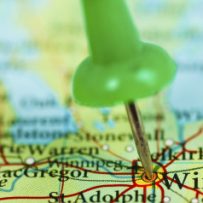 Story by: Daniel Tencer  |  The Huffington Post Canada  
The collapse of oil prices — and the slide in the Canadian dollar that followed — is changing Canada's economy.
Central and eastern Canadians are enjoying the fruits of cheap gas and (somewhat) stronger manufacturing exports, while Alberta heads for a second year of recession.
Last year, for the first time that anyone can remember, wage growth in Atlantic Canada outpaced wage growth in the West. Now the Bank of Montreal has found another way the economy is changing.
"Canada's regional divergences are narrowing," BMO chief economist Doug Porter wrote this week.
To prove his point, Porter turned to provincial unemployment rates. Excluding Newfoundland and its chronically high unemployment rate (14.4 per cent at last count), "the divergence among provincial jobless rates was the lowest ever in December," Porter wrote, in data going back 40 years.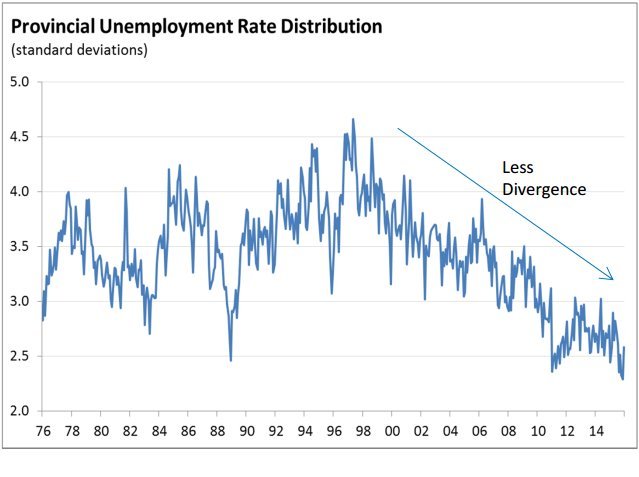 The difference between provincial unemployment rates is shrinking. (Chart: BMO)
The simple explanation is that the formerly booming oil-dependent West has been dragged down while central Canada, whose economy has been struggling since the financial crisis, has been pushed up by lower energy prices and cheaper lower export prices thanks to a lower loonie.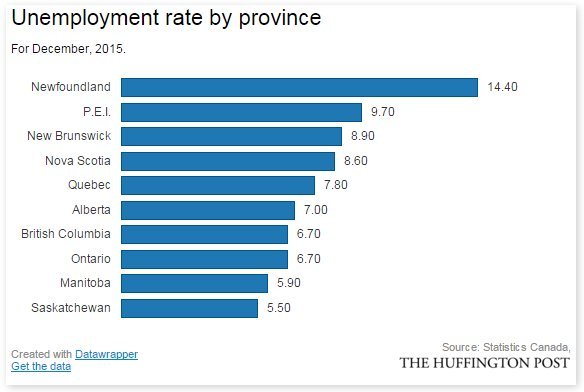 Since mid-2014, when oil prices began falling, Ontario's unemployment rate has fallen to 6.7 per cent from 7.3 per cent, and the province has added some 80,000 jobs.
Meanwhile, Alberta's unemployment rate has shot to 7 per cent from 4.5 per cent, with virtually no net job growth over that time.
So though it's nice to see Canada's long-running regional inequalities shrink, it would have been nicer to see them shrink for a reason other than a recession in Western Canada.