Office, retail real estate sectors settling in for tough 2016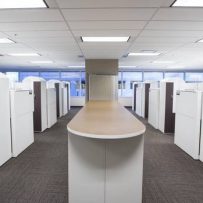 Story by: TAMSIN MCMAHON – REAL ESTATE REPORTER
Canada's real estate industry is bracing for a difficult year as low oil prices, a glut of office and retail supply, and skittish investors drive down demand for commercial space and hamper enthusiasm for new condos.
Office vacancies are on the rise in every market in the country, with the national vacancy rate hitting its highest point in a decade even as developers are set to complete nearly 17 million square feet of new office space over the next two years.
The glut of supply comes in the wake of plunging oil prices that have sent Alberta's office-vacancy rate shooting above 18 per cent last year. But concerns over the Canadian economy have reverberated in real estate markets outside of the energy patch as investors nervously watch from the sidelines. This is adding to the woes facing commercial landlords already grappling with structural shifts, such as a shrinking working-age population and companies looking to slash their costs by cutting back on office space.
"Demand, or lack thereof, will be the biggest story in the office sector," Paul Morassutti, executive vice-president at real estate firm CBRE Ltd., told the RealCapital real estate conference in Toronto on Tuesday.
The country's retail sector is also under increasing pressure, with 60 per cent of space left by the closing of Target Canada still unleased more than a year later and landlords facing the prospect of more closings of Sears Canada locations, along with some small and mid-market retailers.
Real estate investment trusts have been especially hit hard by the bearish sentiment on Canadian commercial real estate. Industry-wide REIT unit prices dropped 5 per cent last year, while some with significant exposure to Alberta saw their units trading below the value of their real estate portfolios. Some industry executives said they expect to see a spate of mergers and REITs taken private this year as investors look to scoop up their real estate assets at bargain prices.
Faced with so much uncertainty, institutional investors say they are reviewing every loan in their commercial real estate portfolios in search of trouble spots, particularly in Alberta. "Everybody is scared they're catching a falling knife," said Paul Chin, vice-president of real estate lending at Otéra Capital Inc., a subsidiary of pension fund manager Caisse de dépôt et placement du Québec.
Yet concerns over the broader Canadian market obscure starkly diverging regional trends, with Alberta's commercial market all but frozen as landlords hold off on selling at distressed prices, while properties in the downtowns of Vancouver and Toronto have fetched record prices.
"If you were an investment broker in Vancouver, you were popping Champagne bottles at the end of last year," Mr. Morassutti said. "An office leasing agent in Calgary, not so much."
Foreign investors, particularly from Asia, are one of the forces helping to drive the regional divergence. Four of the past five purchases of major downtown office space in Canada have been to foreign buyers who have been flocking to the relative safety of the country's hottest real estate markets, Toronto and Vancouver, Mr. Morassutti said.
But that growing divide is causing fresh worries among Canadian lenders that prices for commercial properties in the country's most expensive markets are getting too frothy.
"We sort of feel the cycle is getting long here," Jeremy Wedgbury, managing director of commercial mortgages at First National Financial LP, a major non-bank lender, said. "We do have some concerns about the fundamentals right across the country right now."
In British Columbia, soaring demand for real estate and land – both residential and commercial – has some lenders on edge. "The valuations there are astronomical," John Miron, head of Canadian real estate corporate banking at Royal Bank of Canada, told the conference.
Local buyers are often competing with deep-pocketed foreign investors who plan to hold on to the properties for 30 to 50 years and are willing to pay a premium for future returns. "That's very tough to lend against," Mr. Miron said.
Soaring land values and rising construction costs are also prompting some investors to take a more cautious look at the Toronto condo market, where prices for new condos have flatlined.
"We view the condo market in Toronto as fully valued," Wissam Francis, chief financial officer of Toronto-based real estate management firm Tricon Capital Group Inc., said. The publicly traded firm was once a major investor in the city's condo construction industry, but has since shifted its focus to residential developments in the United States, where profit margins can be close to 20 per cent.
In the past, Toronto developers could expect 15-per-cent returns on average from their condo projects, but that has fallen in recent years. Mr. Francis expects margins have narrowed to 10-12 per cent. "There's very little room for error at this point," he said.