Offer a Helping Hand Online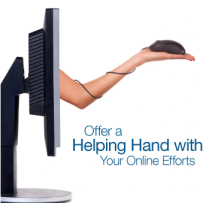 As social media continues to evolve and grow, so does the variety of ways the medium is used. Brands and consumers use social media as a means to connect, promote, and convince. Why don't more brands offer online help via their social channels? According to a study by Cohn and Wolfe in October 2013, only 5% of consumers in the UK and US believe big businesses are very transparent and honest.
There's a saying that goes something like, "If you're not part of the solution, you're part of the problem." In any business, the goal is to have your product or service fill a void and offer a solution to your client's problem or need. And so the cycle continues; as more needs arise, successful businesses offer more solutions to satisfy those needs. In social media, needs and requests for help aren't as apparent as they may be elsewhere, but offering a source of support should still be vital.

Help build a sense of community. What better time is there than summer to gather around the grill or pool for your next resident appreciation event? Build community culture with events centered around your residents. Create Facebook events and tease out those events with Instagram posts to build a buzz. Use Pinterest to evoke ideas for your next community event.

Help inform. Establish your social channels to be a source of real-time content to inform your residents of any news, weather and traffic updates. Share content from your local news stations. The Hot Content category in the new Social Management tool allows you to publish up-to-date news, deals and stories to keep your residents in the loop and in the know. Select the 'Start a Conversation' option to publish posts specific to your property.

Help promote wellness. In addition to creating community culture, promoting a healthy lifestyle is a trend that is here to stay. In fact, trendwatching.com reports 90% of consumers value brands that play a role in enabling their personal goals. Show your best side by highlighting healthly perks, such as your on-site fitness center or pool. Start a running club or yoga group once a week or once a month, depending on your time allowances.
Story by: Ansley